This site contains affiliate links. As an Amazon Associate, We earn a commission from qualifying purchases at no extra cost to you.
MacBook Pro users often rely on the built-in camera for various tasks, such as video conferencing, content creation, and even photography.
However, if you're unfamiliar with adjusting the settings of camera on your MacBook Pro, you might not be getting the most out of this powerful tool.
In this guide, we'll walk you through the steps to adjust macbook camera settings on your MacBook Pro like a pro, so you can capture your best shots yet. We'll also discuss third-party applications, external accessories, and troubleshooting tips for common camera issues.
Adjust Mac Camera Settings [Quick Answer]
To adjust your Mac camera's settings, click the Apple logo and select System Settings. Next, click Privacy & Security, and select the Camera option under the Privacy tab. Here, you'll see the apps that you can give access to your camera. You can toggle on their switches, and they'll be able to access your camera.
You can optimize the lighting and environmental conditions to improve your camera's performance. Ensure you're in a well-lit area and clean your camera module with a soft, preferably microfiber cloth to remove dust particles.
If manual adjustments don't suffice, consider using third-party applications like Mac Webcam Settings or iGlasses to fine-tune settings such as contrast, sharpness, white balance, saturation, and exposure.
Additionally, you might want to invest in a high-resolution external camera or webcam compatible with your MacBook Pro for superior video quality.
How To Adjust Mac Camera Settings
To adjust your Mac camera settings, here's what you need to do:
Click the Apple logo in the top-left of your screen and select System Settings.
Select Security and Privacy.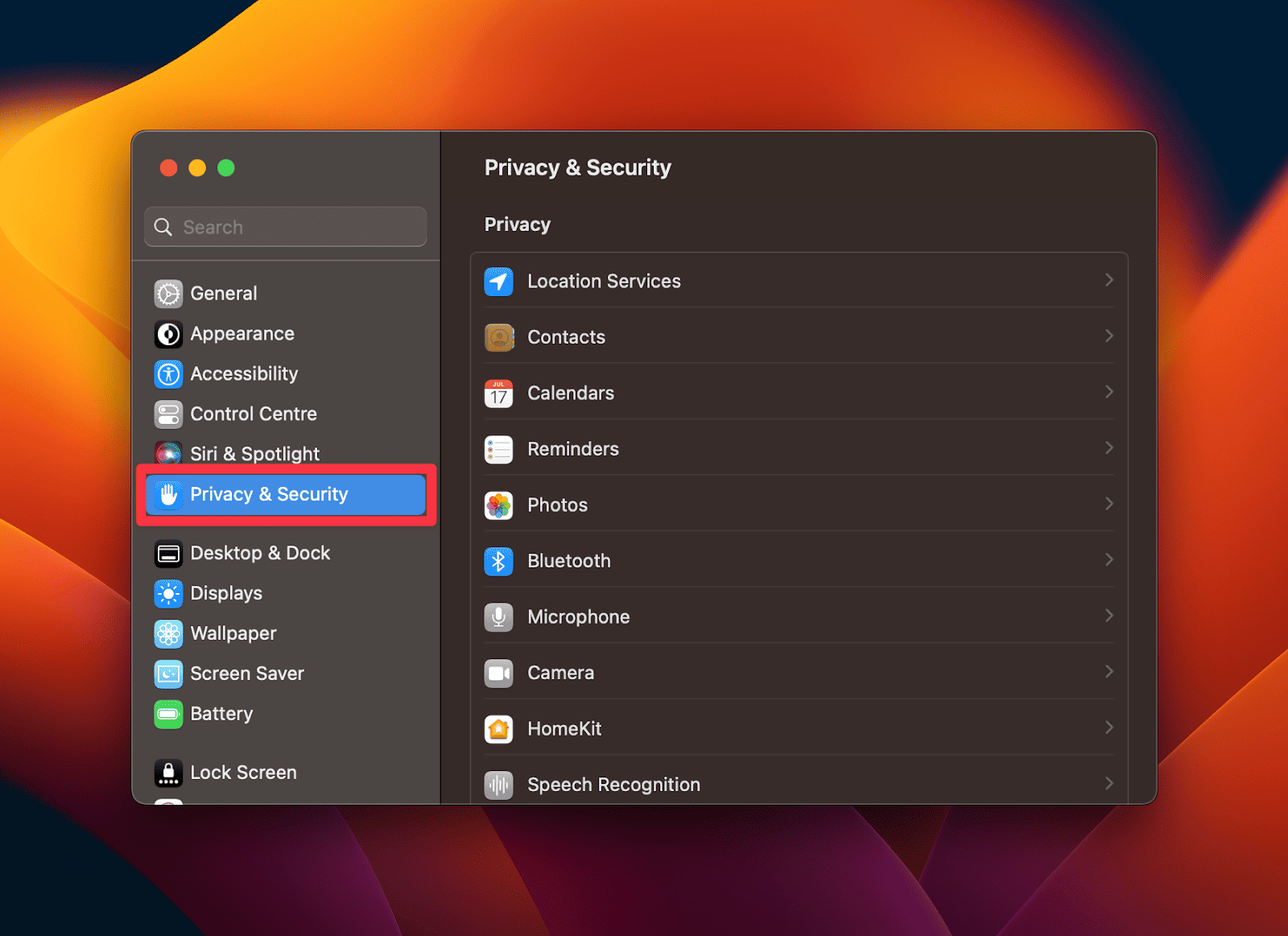 Under the Privacy section, scroll down to the Camera option.
Locate the app you want to allow access to your camera and toggle on its switch.
Can I Configure Camera Settings Using The Built-In App?
Currently, no. When considering quality of camera and advanced configurations, there are no built-in settings in macOS that you can tweak to your requirements.
However, there are multiple third-party applications and other methods you can utilize to bolster your camera quality to your taste.
Alternatively, you can tweak some camera settings like app accessibility and privacy preferences to your needs. You can block or allow specific apps from accessing your camera with the above guide.
How Can I Improve The Camera Quality Of My MacBook Pro? 
If you want to improve your MacBook Pro camera quality, you can do it in a couple of ways. These approaches depend on the camera issue at hand, your budget, and your general preferences. Below are three methods you can use to elevate your MacBook's camera game.
1. Adjust Lighting And Other Environmental Conditions
Manually adjusting environmental conditions and the camera itself can lead to significant improvements in your MacBook Pro camera's performance. Here are some key factors to consider:
Importance of proper lighting: Good lighting is crucial for capturing high-quality images and video streams. Ensure you're in a well-lit area to allow your camera to perform optimally.
Environmental factors affecting camera performance: Apart from lighting, factors like dust particles can also impact your camera quality. Regularly clean your camera module with a soft microfiber cloth to remove dirt and debris that may cause images to appear foggy or unclear.
Adjusting camera settings: In addition to optimizing environmental factors, experiment with adjusting the camera settings (exposure, white balance, etc.) within applications or third-party software to further enhance image quality.
2. Utilize Third-Party Applications
If you haven't observed any major changes in camera quality after taking the manual route, the software approach is the way to go. Although no built-in camera settings allow you to tweak photography elements to your taste, you can use third-party applications.
Third-party apps allow you to adjust various camera settings such as contrast, sharpness, white balance, saturation, and exposure. This leads to greater overall camera quality. Although these applications are not free to use, they work seamlessly with your built-in camera as well as third-party external webcams.
Webcam Settings is a powerful and user-friendly application that allows MacBook Pro users to customize various camera settings, such as contrast, sharpness, white balance, saturation, and exposure.
Available for a one-time fee of $7.99 on the Mac App Store, it provides seamless integration with your built-in camera and external webcams.
Webcam Settings offers a straightforward interface for adjusting settings in real time, enabling you to achieve the desired image quality and overall camera performance.
iGlasses is a versatile and feature-rich application designed for MacBook Pro users seeking to optimize their camera settings for enhanced image and video quality.
Priced at $19.95, iGlasses provides a wide array of settings, including contrast, sharpness, white balance, saturation, and exposure, as well as digital pan, zoom, and tilt.
Compatible with both built-in and external webcams, iGlasses offers a user-friendly interface, real-time adjustments, and additional features such as special effects and filters, making it a comprehensive solution for camera customization.
3. Get An External Webcam
If all else fails, you should consider purchasing an external webcam. An external webcam provides a high-resolution alternative to your basic MacBook camera. You also get better autofocus and adjustable settings for enhanced image quality. You can easily attach it to your Macbook Pro for video conferencing and more.
Many high-quality webcams on the market are compatible with the MacBook Pro. Depending on your budget and resolution preferences, you're sure to find exactly what you need.
FAQs
Here are some related questions you might have, I'll briefly answer them below.
Why does my MacBook Pro camera quality look foggy?
Your MacBook Pro camera quality may look foggy due to various reasons. It could be that the your camera lens module is dusty, in which case you're advised to clean it with a microfiber cloth. Alternatively, it could be due to bad lighting conditions or some default in the camera itself.
What apps can I use to adjust my MacBook Pro camera settings?
To adjust your MacBook Pro camera settings, you can use different third-party apps. One option is the iGlasses app, priced at $19.95. If that's out of your budget, you might want to try an affordable alternative like Webcam Settings, priced at $7.99.
Can I manually adjust my MacBook's camera quality without using apps?
No, you cannot manually adjust your MacBook's camera quality without using apps. macOS does not provide built-in options for manually adjusting the MacBook's camera settings, such as exposure, white balance, or focus. These settings are typically managed automatically by the operating system or the individual applications using the camera.
Conclusion
Adjusting your MacBook Pro's camera settings can significantly enhance the image and video quality for video conferencing, content creation, and photography. By optimizing lighting and environmental conditions, exploring third-party applications like Webcam Settings and iGlasses, and considering external webcams, you can unlock the full potential of your MacBook Pro's camera.
Remember to keep your camera module clean and experiment with various settings to achieve the desired results. With the right adjustments and tools, you'll be able to make the most of your MacBook Pro's built-in camera and capture stunning visuals for any purpose.
As usual, feel free to leave a comment if this guide helped you in any way. Till next time!
About Lorena