This site contains affiliate links. As an Amazon Associate, We earn a commission from qualifying purchases at no extra cost to you.
MacBook Pros are generally fast computers and when they start to run slow, it can be frustrating. Waiting for files to load and waiting for things to open in the middle of an important project is a hassle.
Thankfully, you can use software to clean up your MacBook Pro's hard drive yourself to help speed up its performance and make it run like new again.
I'm Eric, a MacBook Pro expert and software engineer. I've cleaned up the hard drives on many Macs and put together this guide to help you do it yourself.
If you want to learn how to clean up your MacBook Pro hard drive, keep reading!
How to Clean up MacBook Pro Hard Drive with Software
There are a few different ways to go about cleaning up your MacBook Pro hard drive and the easiest way is to purchase and download software that cleans up the hard drive for you.
Note: by saying "hard drive", we mean a hard disk drive and solid-state drive (SSD) that's equipped inside your MacBook Pro.
We will look at some steps to cleaning up your hard drive manually but for convenience and if you are not too computer savvy, purchasing a program that takes care of everything is a quick and easy option.
One of the most well-known and common software programs that help to clean up a MacBook Pro hard drive is CleanMyMac X.
This app is really easy to use and after it is installed, you simply open the app, run the system check and it goes through an in-depth process of cleaning out old files and other junk, along with a few other important scans to clean up everything and get your computer running like new again.
CleanMyMac X allows you to remove old system garbage, system backups, and other things that you no longer require. It even has a feature that will show you what files are taking up space on your Mac and make it easy to delete. As a long-time Mac user, I realize how important it is to clean up a MacBook hard drive and CleanMyMac X is an excellent tool for this.
CleanMyMac X will clean the cache and free up gigabytes of valuable space with just one click. Go to the CleanMyMac-X website and click Buy Now or Download Free Version to download the app. Once the download is complete, run the app and follow the instructions on-screen.
1. Run a Smart Scan Search
Smart Scan for Mac locates junk files, allowing you to preview the results before clearing them in one click. Once the app is open, click on the Smart Scan tab.
You can click Scan to run the scan.
Once the scan is complete, you can view the information of the completed scan.
2. Delete App Cache (System Junk) on MacBook Pro Device
System junk includes app caches, log files, and other files that are taking up space on your hard drive. Launch the CleanMyMac app and click on the System Junk tab.
You can click the Scan button to begin the scan.
Once the scan is complete, click the Clean button to remove the system junk from your MacBook Pro.
3. Remove the Trash
Your computer's trash folder can fill up with useless files, making it difficult for your computer to run programs. You can click Scan at the bottom to scan the folder.
You need to click the Empty button at the bottom of the window to empty the Trash folder.
4. Remove Old Time Machine Backups From Your Mac
Backups created by the Time Machine allow users to restore their data if deleted or corrupted. (snapshots) You can turn off the Time Machine on your MacBook. Navigate to System Preferences.
2. Select the Time Machine icon
3. Select Time Machine. If checked, uncheck the box next to "Back Up Automatically." Give it a few minutes to take effect. It will delete your local Time Machine snapshots.
5. Delete Your Browser Cache for a Faster Internet Experience
A browser cache is a temporary folder that stores web page elements, such as images and HTML files. In the CleanMyMac-X tool, go to the System Junk folder and press Scan.
You can select Review Details, User Cache Files, and press Clean.
6. Remove Language Packs Known as Localization Files
Language packs allow you to change the language in an app. After you run the System Junk scan, click Review Details and find Language Files. Review the language packs that you want to remove.
If you're satisfied with your choices, click the Clear button to clear the startup disk.
7. Free up System Data Storage
This data includes plug-ins or app extensions, cache files (browser cache, etc.), old backups, macOS system and temporary files, and others. Only delete system files that you don't need for the proper functioning of your Mac. You can go to the System Junk feature.
Press the Scan button to start the analyzing process.
Click Review Details report.
Press Clean to remove all the files that you've checked.
8. Uninstall Unused Apps From Your MacBook and Free Up Storage
Unused apps can take up space on your MacBook Pro, even if they aren't running. Dragging the app to the Trash will uninstall it, but it also leaves behind lots of hidden files that can be a pain to clean up. In the Applications section, you can click on Uninstaller and select Unused in the middle column of the screen. There's a column with unused files on the right.
Click on the Uninstall button at the bottom of the screen.
9. Delete Duplicate Libraries from the Photos App
Deleting duplicate libraries from the Photos App on your Mac is an easy way to free up storage space and keep your MacBook hard drive clean.
Please back up the Photo Libraries folder first, open Finder, and click on Pictures in the sidebar.
Select all the duplicate photos you want to delete.
You can click on the Trash button at the bottom to delete duplicate photos.
These Mac cleaning apps do cost money, but the time they can save you and the ability to keep everything on your computer running quick and clean is easily worth the price.
A quick scan and clean by one of these programs can have your MacBook Pro running fast again in a matter of minutes while doing it yourself can take several hours.
How to Clean up MacBook Pro Hard Drive the Free Way
If you don't want to spend the money on a clean-up software program, it is possible to clean up the hard drive yourself.
It takes some time and know-how to do the job right so some research and further instruction outside of this quick guide might be needed.
If you are comfortable with your MacBook and know how to access back-end aspects of its operating system, you will be able to clean up your own hard drive.
Here are some easy steps to cleaning up your hard drive:
1. Use Apple's Storage Manager
Apple has a built-in feature that will help you clear up space on your MacBook Pro. The "feature" doesn't really have a name and is actually a list of tools and recommendations of files to delete.
To get there, click the Apple logo in the top left of your screen, then select "About this Mac." Next, click "Storage," then select the "Manage…" button.
A new window will open and will provide four options to free up space on your MacBook Pro's hard drive:
Store in iCloud
Optimize Storage
Empty Trash Automatically
Reduce Clutter
You can select each option one by one to reduce the data on your hard drive.
Additionally, you can select between various storage locations on the left-hand pane to delete files. You can choose from:

Applications
Documents
iCloud Drive
Mail
Messages
Music
Photos
macOS
System Data
Only delete files you are sure you no longer need.
2. Delete old and unused files
Go through all of your system files and delete any that you no longer use or don't know what they are. Duplicate files can also be deleted if you find any during your search.
To start, open "Finder," then browse through your files located in your "Downloads," "Documents," "Desktop," and other file locations you have on your MacBook Pro.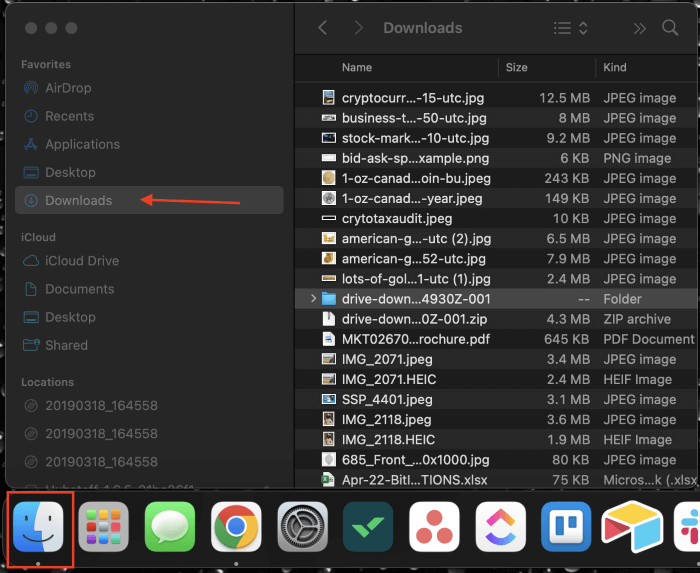 Then, right click any file you want to delete and select "Move to Trash." You can select multiple files at a time by holding the Command key and single clicking each file to highlight it.
3. Clean up your app cache
Clearing up web caches can be an easy and effective way to improve performance. To open your cache folder, use the SpotLight search by hitting "Command + Spacebar." Then type ~/Library/Caches into the search and click on the first result.
The cache folder on your Macintosh HD will now open:
Each app on your Mac has its own subfolder within the cache folder you just opened. You can delete the contents of each folder to clear up space on your HD.

However, use caution. Some app caches for certain apps cannot be safely cleared. We suggest making a backup of the cache before deleting files. Then, if everything works fine, you can delete the backup too.
4. Uninstall Any Unused Apps
Apps can take up a ton of space and memory so getting rid of any that are installed on your computer that you don't use can speed things along in the long run.
To uninstall an app, open "Finder." Next, click "Applications" in the left side of the window.
Then, right click on the application you want to delete and select "Move to Trash."
5. Remove Old Mail Attachments
We all get thousands of emails a year and a lot of these come with images and attachments. If you double click on these, they are saved to your computer. Go through and get rid of these old attachments to help your hard drive.
These are usually saved to your "Desktop" or "Downloads" folders by default. Navitage to either of these locations in Finder, then right click the files and select "Move to Trash."
6. Empty Mac Trash
Once a file is placed in the trash can, it still needs to be permanently deleted. If you have put lots of files in the trash but have not yet deleted, they can take up a bunch of space.
To empty your MacBook Pro's trash, find the "Trash" icon in your dock. Right click it, then select "Empty Trash."
7. Remove old iOS Backups
Backing up your iOS is great practice, but these backups from your iPhone or iPad can be cumbersome. They take up gigabytes worth of storage.
To delete old iOS backups, click on the Apple logo on the top left of your screen, click "Storage" in the top middle of the window, then select "Manage…"
From the selections on the pan of the window, select "iOS Files." (Note, the screenshot below doesn't show iOS Files because I have never backed up my iPad or iPhone to my Mac.)
8. Remove Language Files
Language files on Macs take up nearly 1 GB of hard drive space. This is because Macs support many languages. This is a needed feature for a computer designed for use worldwide. But, if you only use your Mac in one language, deleting these files can free up a ton of space.
To delete the Language files, go to Finder. Then click on Applications on the left side pane.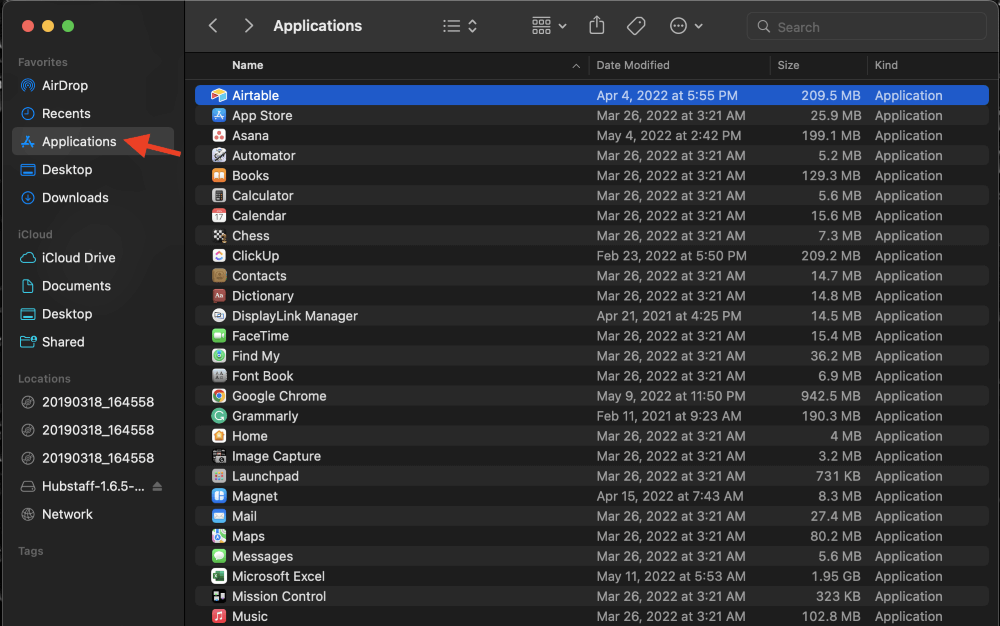 Next, right click an application and select "Show Package Contents."
Then expand the "Resources" folder by clicking on the arrow the left of the word.
Once the folder expands, you can right click the individual language files (they end in ".lproj") and select "Move to Trash" to delete them.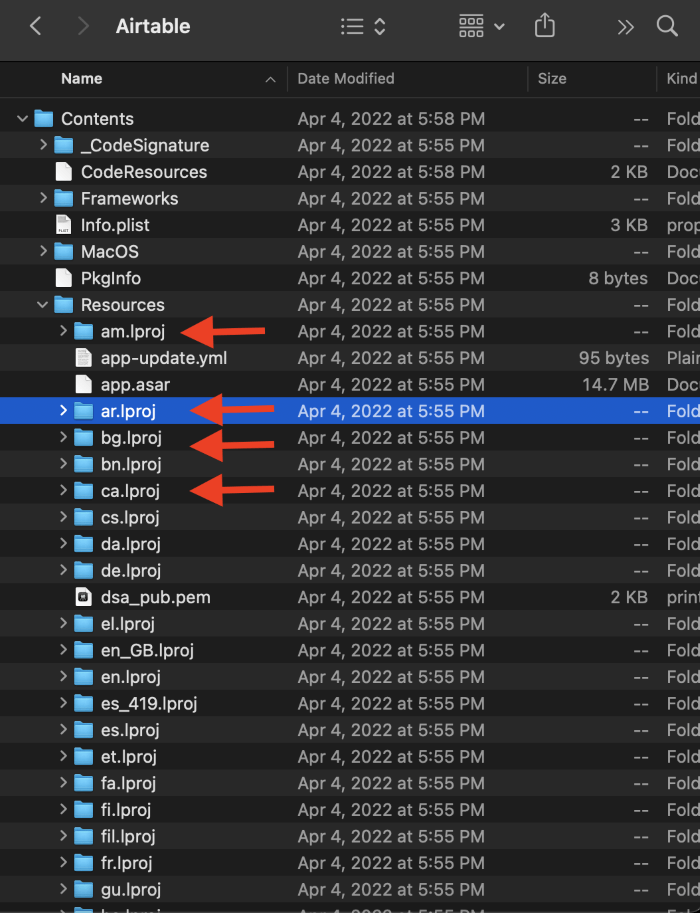 Note that the language is represented by the first two letters of the file. For example "en.lproj" is for English and "fr.lproj" is for French. Don't delete the language you use in the particular program.

Also, this is a meticulous task to do manually since you have to do it for every application. This is where a clean software can come in handy.
9. Delete DMG Files
DMGs are disk images that your Macbook Pro stores periodically. However, they are often large files that can take up a lot of space. To remove these files, open Finder. Then type ".dmg" into the search on the top right and hit enter.
Then, right click files at the end with ".dmg" and select "Move to Trash" to delete them.
Doing all of these steps can be overwhelming. But you don't have to do them all at once. You can just focus on one step today, another tomorrow, and so forth.
Symptoms of a Cluttered Hard Drive
You use your Macbook Pro every day and are used to breezing through tasks and apps. You'll know when it starts acting slow. But here are some symptoms to look for.
A cluttered hard drive is pretty normal, especially if you've had your computer for a while. So don't worry if any of this is happening to your machine.
If your MacBook Pro is running slower than usual, you may notice:
Programs and apps take a long to load
Web pages crash or don't load
Your Mac crashes
These are all good signs that your hard drive might need to be cleaned.
High quantities of large and old files such as photos and music can take up a lot of room on your hard drive. Over time this could lead to slow performance. Items left in the trash bin but not fully deleted can also take up a lot of space.
Then you have system junk and other leftovers from commonly used apps that might take up a lot of space behind the curtain. Old email attachments and old system files also add to poor performance.
FAQs
We've compiled a list of answers to common questions about cleaning up your Mac's hard drive, along with any extra information we've come across.
Why Does My Mac Keep Saying There Is Not Enough Disk Space When There Is?
A logical explanation for this error would be the so-called "space." It's the space taken by all the unnecessary stuff that you can purge and convert into free space. One way to free up your purgeable space is to disable iCloud drive optimization.
How Do I Completely Wipe an External Hard Drive Mac?
Back up your files and connect the drive to your Mac. In Disk Utility, you can click View and select Show All Devices. On the top menu, choose a name, format, and scheme for the drive, then click Erase. This method will wipe everything on the external hard drive.
Does Erasing Mac Hard Drives Erase Everything?
Yes, when you erase a hard drive, you're not just deleting the files sitting on it. You're deleting all information on it. Before you start, back up your Mac with Time Machine.
Why Is My Mac So Slow All of a Sudden? Is It My Hard Drive?
Consider updating its operating system if you have an older model Mac and its performance suffers. If your MacBook is new, it may be slow because you have too many background programs and apps running, or it may have a malware infection. The hard drive may not have enough free disk space.
Final Thoughts
Cleaning up the hard drive on your MacBook Pro can be an involved process. It takes time, especially if you've owned your Macbook Pro for a while. But, you can do a few minutes of cleaning here and there to make it less overwhelming.
If you want to save some of your time, purchasing a software cleanup program can be an easy option. But if you want to do it yourself, start with the information above.
What is your favorite Mac drive cleanup strategy? Have you ever cleaned up your hard drive manually? Let us know any other tips and tricks, if so!
About Eric