This site contains affiliate links. As an Amazon Associate, We earn a commission from qualifying purchases at no extra cost to you.
Mac systems work perfectly when you take care of it. If you're not, it will manifest issues relating to performance. In this article, we're going to tackle the issue of when your Apple Mail is very slow on Mac due to system errors, outdated software, etc.
It could also just be because of a cluttered inbox, so we're going to provide you with all kinds of fixes for this problem.
Let's check out the seven different fixes detailed below!
What To Do When Apple Mail App Is Very Slow On Mac
To fix the slow mail account app on your Mac, you can try clearing out old emails and attachments. Your app might not work smoothly if there isn't any space to add more email account to it. Similarly, you can also try updating the software on your system. This can fix any internal error or bug fixes that can further boost the app's performance.
The above methods often tend to fix the issue easily. But if this doesn't work, we've got 5 more fixes for you in the section below. But before that, You should check your internet connection or reset network settings and restart mail service.
Fixes For When Apple Mail App Very Slow On Mac
You can follow the detailed steps mentioned below to fix your Apple Mail and get back to work in a jiffy.
1. Rebooting In Safe Mode
Safe Mode is a brilliant way to determine what could be causing the problem with your Apple Mail app. You can reboot your system in Safe Mode and then restart your Apple Mail. If everything works fine, then there might be issues with your plugins or other mail account, third-party apps. 
For Apple Silicon:
Step 1: Click on the Apple icon on the top-left.
Step 2: Choose Shut Down.
Step 3: Once the Mac is completely off, press & hold the power button.
Step 4: Wait for the Loading startup options to appear, then select any Volume.
Step 5: From here, press and hold the Shift key.
Step 6: Choose Continue to boot in Safe Mode.
For Intel Mac:
Step 1: Restart your system.
Step 2: Immediately press and hold the Shift key.
Step 3: Wait for the login Window to appear, then release the key.
Step 4: Log in to your Mac.
You have successfully booted into Safe Mode on your Mac.
Now, check your Apple Mail and see if everything looks fine. After this, reboot the Mac again in normal mode. This is one of the easiest solutions for this problem. However, if you're still facing issues, check out the methods given below.
2. Force Quit Apple Mail
If you're stuck with a static screen, the best thing you can do is to force quit the app. There aren't many ways out of this, so force quit is the only easy option. You will have to force quit the app and restart.
Step 1: Make sure your mail app is open.
Step 2: Now, go to the Apple icon on the top-left of the desktop.
Step 3: Choose Force Quit.
Step 4: On the next window, select Mail.
Step 5: Click on Force Quit.
The mail app will terminate. You can restart the system in the meanwhile and launch it again to check if the issue has been resolved.
3. Clear Out Old Emails And Attachments
If you have no space for more emails and attachments to be saved on the cloud, the Apple mail app will run slower than usual. Hence, you need to clear out old emails and attachments that are of no use to you anymore.
Here is how you can try doing it.
Step 1: Open the mail app on your system.
Step 2: Choose the inbox or folder you want to delete emails from.
Step 3: Now, use the search bar to look for old emails.
Step 4: Then, keep pressing the Command key on the keyboard and select all the emails you want to delete.
Step 5: Click on the top Trash icon.
You can also empty the trash to save space.
Once this is done, you can see a significant change the app and it is working a lot smoother.
4. Update Your Software
Your system or your Apple Mail might not be up-to-date. You need to update them to their latest versions to eliminate any error or bug fixes that come up.
Step 1: Go to the Apple menu and choose System Settings.
Step 2: Scroll down and choose General.
Step 3: Select Software Update.
Wait for the system to look for an update and choose to Install now. Once its done. Your system will restart and then save all the changes.
Try working on the Apple mail once again and check if the issues still persists.
5. Disable Or Remove Incompatible Plugins
You might be using plugins with your Apple Mail that enhance the functionality and overall experience. However, some of them might be incompatible, making the app slower than usual. Here are the steps you can follow to remove these plugins.
Step 1: Open the mail app on your Mac.
Step 2: Now, click on Mail on the top menu list.
Step 3: Go to Settings and choose General.
Step 4: Click on Manage Plug-ins below.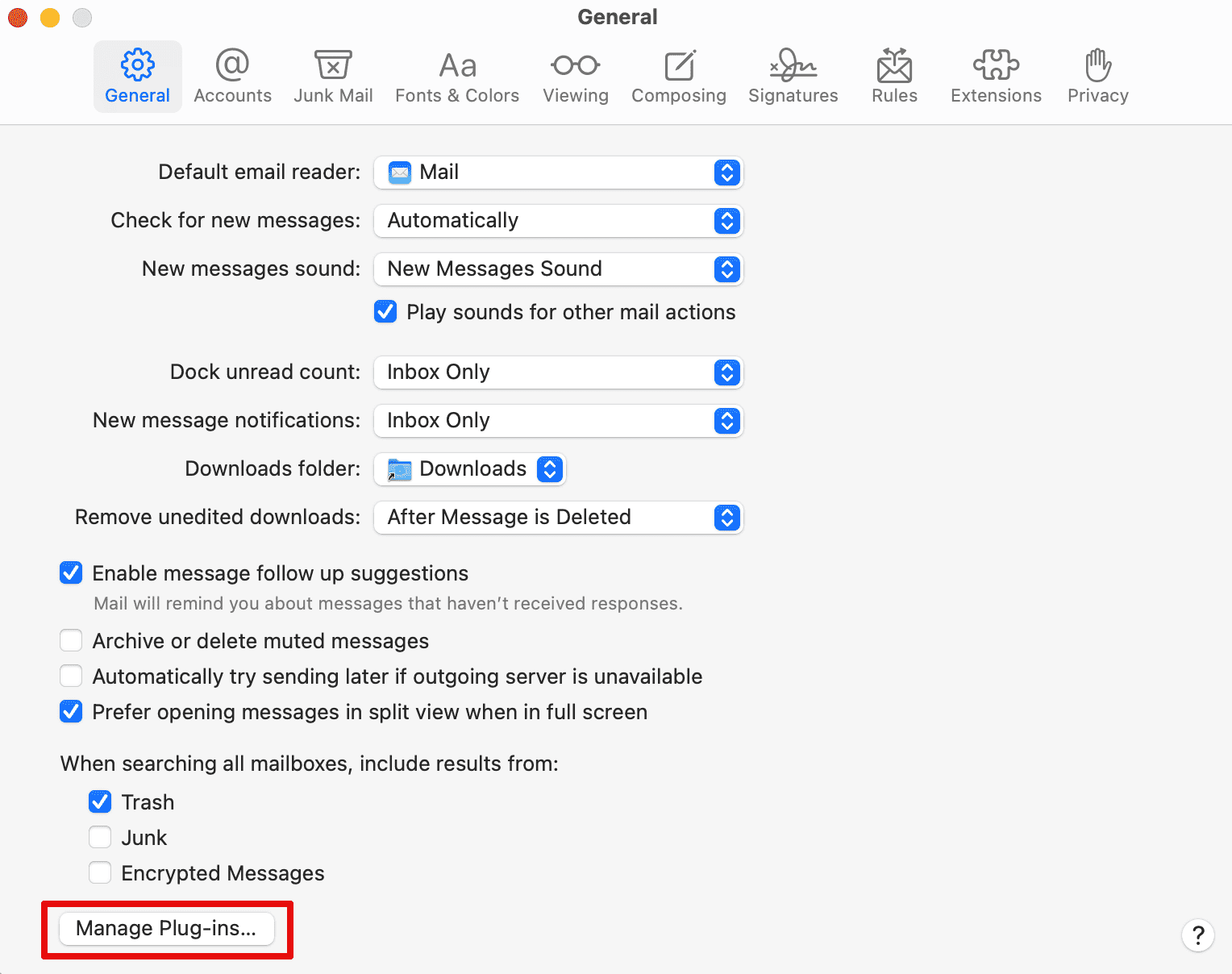 Step 5: Select all the plugins and then choose Remove.
Once you do this, quit Mail and then wait for some time before starting it. Check to see if the issue has been resolved and whether the plugins have been the cause for it.
6. Restart Your Mac
All you need sometimes is to restart your Mac. This can solve a myriad of problems, not just a slow Mail app. So, if you're facing any other minor issues with your system, you can try restarting it before attempting other methods.
Step 1: Quit all the apps running on your system.
Step 2: Go to the Apple icon on the top-left.
Step 3: Choose Restart.
7. Reinstall macOS
When nothing else works, this method has proven to be extremely helpful as it flushes your system of all unnecessary items that may be causing glitches and bugs.
Although it is recommended to try all the methods listed above, before doing this, make sure to create a backup of your data and then proceed further.
For Apple Silicon:
Step 1: Shut down your Mac.
Step 2: Press and hold the power button to restart.
Step 3: Now, release the button once you see the startup options on the screen.
Step 4: Choose Options.
Step 5: Click on Continue and log in to your Mac account.
For Intel Mac:
Step 1: Shut down your Mac.
Step 2: Press and hold the power button to restart.
Step 3: Release the button. Press and hold the Command + R key on the keyboard.
Step 4: Release the buttons once you see the Apple Logo on the screen.
Once you are done with the above set of steps for both Silicon or Intel based Mac, wait for the system to enter Recovery.
Step 1: Choose Reinstall macOS.
Step 2: Click on Continue to complete the installation process.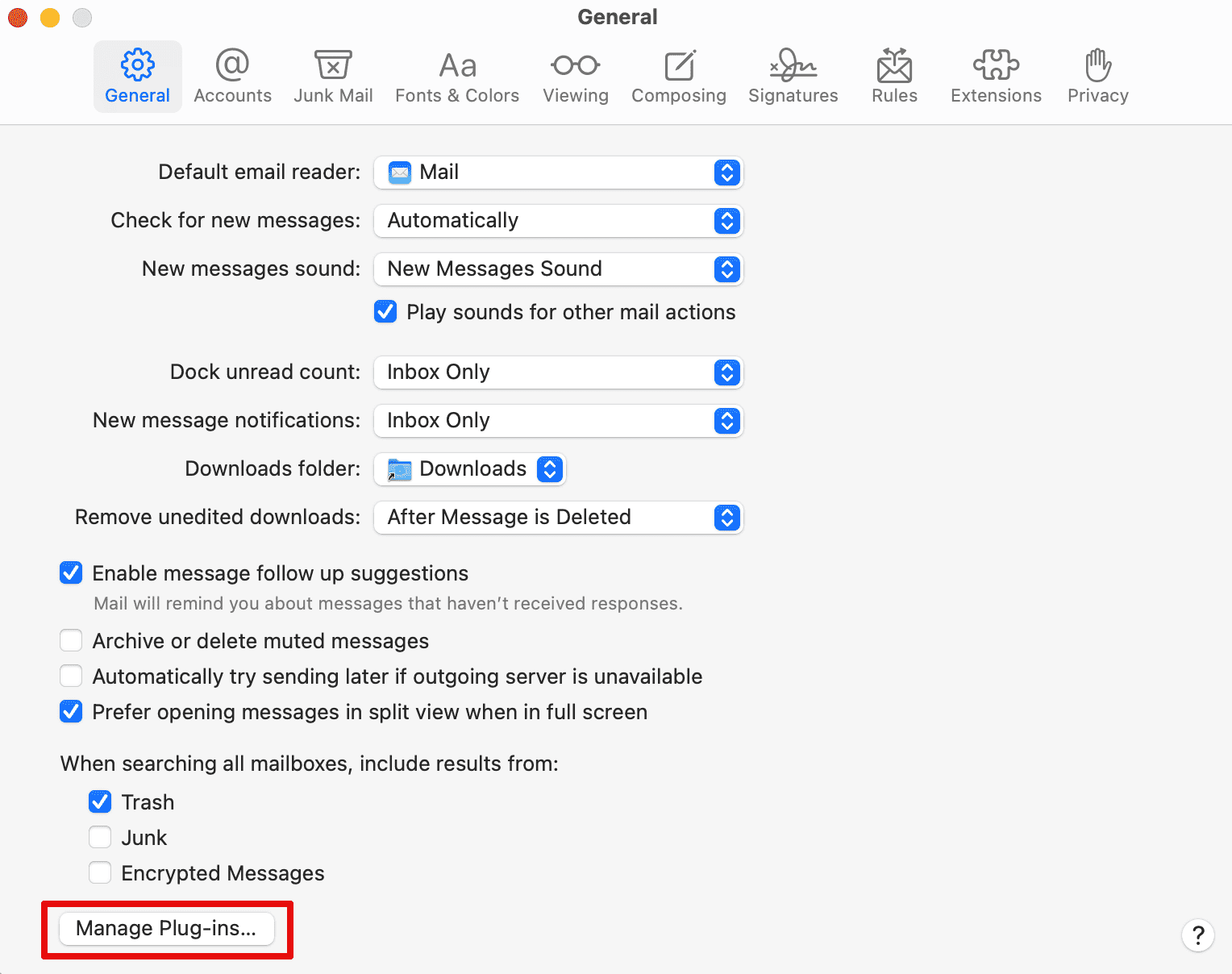 Frequently Asked Questions
Why is Mail app so slow on Mac?
Your Mail is running slow on mac because there might be some power-hungry apps, such as Google Chrome, that might be slowing the entire system down. You need to quit the app and restart your system to fix the issue. Certain plugins can also cause this, so giving our article a look-through will help you fix the problem. 
How do I fix my Mail app on my Mac?
You can start by quitting the Mail app and then restarting the system. Try to keep your inbox clutter-free, so it doesn't take up space and slow down the app. Checking unknown mails in Safe Mode is also helpful.
Conclusion
The Apple Mail app slowing down in performance can be just a minor inconvenience to some, but to others who use it on a regular basis, it is the start of a disaster. Regardless of which group you fall into, it is always important to make sure even the small things like your are kept uncluttered and don't have any bugs in them. This ensures that your system as a whole works smoothly.
Since this is a relatively small problem, its fixes are also simple. Start by restarting your Mac and decluttering your inbox. These methods should yield results. If they don't try moving on to the other fixes we have detailed in the article above.
Reinstalling your macOS software should be the last thing you try for when your Apple Mail app is very slow. This is because software reinstallation takes a long time and you could lose important data if you haven't saved them properly.
We hope this article was helpful and that your Mail app is working at the optimal speed now. Let us know in the comments below which method worked for you!
About Lorena