This site contains affiliate links. As an Amazon Associate, We earn a commission from qualifying purchases at no extra cost to you.
So you just hit the "Empty Trash" option on your MacBook, only to find that you mistakenly deleted several important files or photos as well? This begs the question: can you recover trash on Mac?
The quick answer is: yes, it is possible to restore trashed files on macOS, but the chance is NOT a guaranteed 100%.
In this post, we're going to explain why you might be able to perform Mac trash recovery and show you the right step-by-step guide on how to do so.
Read on to learn more!
Are files deleted from Mac Trash still recoverable?
We all know that once you delete a file by dragging it to the Trash, it's easy to undelete it. Simply go to the Trash, find the file, highlight it, right-click and select "Put Back". Then you'll find it immediately in its original location. You see, macOS doesn't actually delete the file immediately.
But what if you also removed the file from the Trash? Does that mean it is gone for good?
Well, it depends.
If you are using a Mac with a hard disk drive (HDD), the chance to recover the file is high.
Technically speaking, when a file is removed from Trash Mac, only the name and its associated info of the file is removed from the disk directory, and the space the file originally takes is now marked as vacant, to be written over by new files generated by the user (you) or the system.
The disk directory we talk about here acts like a "chief commander" to manage all the data writing activities that occur in a hard drive. It records everything, where every file is stored, what its size is, etc. When you delete a file, only the "header" information of the file is removed while the real data remains intact.
So, as long as you don't write anything new to the disk space, the file is usually recoverable. However, there is no way to tell when the released space will be reused.
If you are using a MacBook Pro with a solid-state drive (SSD), sadly it's another story. When you erase the file, it's usually beyond recovery unless you have a backup.
This is due to how the "Trim command" organizes a file in an SSD. When you delete a file from Trash, the TRIM system in Apple macOS also zeros out the actual data as part of the disk management, making the chances of salvaging the data slim.
Enough techy stuff, hopefully, you get the technical theory behind it. Let's move on to the most important thing.
How to Recover Trashed Files on Mac?
First things first — stop using your Mac immediately. Try not to save or generate new files as they can possibly "over-write" the disk space. If your deleted files got overwritten, it's extremely hard to retrieve them.
Step 1: Check if you have saved the files on another storage device.
Close your eyes for a few seconds, and think about when you created the files.
For example, if they are photos, maybe they are still on your phone or on removable media (memory card, USB stick, external drive, etc.). Don't forget the cloud storage you might be using too.
Also, if they are project-based documents, maybe you've shared them with your co-workers, check your email sent box to see if they are still there.
Step 2: Restore from Time Machine backup.
If you have enabled Time Machine backup, you are in luck. The files you deleted from Mac Trash are probably in a previous Time Machine snapshot.
Simply enter Time Machine and navigate to the folder where your erased items lie. This Apple support article is worth taking a look at. If you prefer video tutorials, here's a good one:
Also Read: How to Backup MacBook Pro to an External Drive
Step 3: Use a third-party Mac data recovery program.
If the above steps didn't work out, your last option is to use a professional data recovery app.
We recommend Recoverit Data Recovery. The trial version is free and allows you to see if it is able to scan and locate the deleted files (select "Trash" recovery mode under Quick Access), you'll need to purchase the software to fully recover the items though.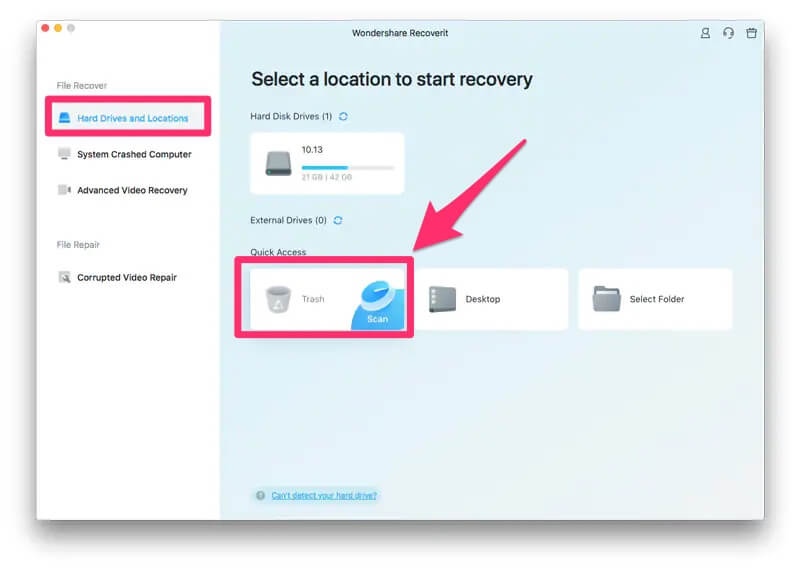 Final Words
In the digital age, your data is irreplaceable. The best way to avoid data disaster on Mac is to make good backups, and backup of backups!
Apple Time Capsule is my first recommendation as it's made by Apple. If you're looking for something more affordable, check our list of the best external drives for MacBook Pro.
Meanwhile, it's worth noting that online backup services like Dropbox, iCloud, and Google Drive are also great choices, and they have free plans to get started. Personally, I prefer hardware storage devices because they are more reliable and secure than online storage services.
I hope you are lucky and have recovered your deleted files from Mac Trash. Leave a comment below if you have any questions about the topic.
About Eric