This site contains affiliate links. As an Amazon Associate, We earn a commission from qualifying purchases at no extra cost to you.
Whether you want to update your MacBook Air, sell it, or troubleshoot it, knowing when the model was released is crucial. For one, it is helpful when estimating how long your Mac will last, as Apple stops updating its MacBook Airs after a specific time. This means if your Mac is beyond that time limit, it becomes obsolete and will no longer be usable after that time.
Thankfully, there are various ways to find out in which year your Macbook Air was built. And even if you can't turn your Mac on, you can still find out its manufacture year. To know how, keep reading.
What Year Was the MacBook Air First Introduced?
Steve Jobs introduced MacBook Air on January 15th, 2008, during the 2008 Macworld conference. It was the first generation MacBook Air, featuring a 13.3-inch model, an Intel Merom CPU, and an Intel GMA GPU.
It was the first subcompact notebook designed by Apple after a long time. The last notebook model sold by Apple was the 12-inch PowerBook G4 from 2001 until it was discontinued in 2006. The MacBook Air made it to headlines with its exceptional anti-glare LED-backlit display and a full-sized keyboard with a large trackpad.
Apple announced a new model on October 14th, 2008. It featured a low-voltage Penryn processor, Nvidia GeForce graphics, and an increased storage capacity of up to a 120 GB HDD/128 GB SSD. When the model was renewed in mid-2009, the device came with a faster Penryn CPU and improved battery capacity.
Why You Should Know Your Mac's Year
Knowing the specs of your device allows you to make the best use of it. Just like your Mac's processor, RAM, etc., knowing your Mac's year is also important for a number of reasons, such as:
Keep your macOS up-to-date
Many older models of Macbook are no longer compatible with the newer versions of macOS. So, to be able to upgrade your Mac to the latest versions of macOS, you need to know how old your laptop is. This will help you determine whether your laptop is compatible with your desired macOS version or not.
Know how many good years are left on your Mac
Macs can generally last up to a solid ten years or even more with the right care. However, there is not much you can do about its software. With time, your Mac becomes more and more obsolete and incompatible with the newer software upgrades. In fact, Apple stops rolling out upgrades for its Macs after a few years.
So, knowing the age of your Mac will help you know how long you can use it for while keeping up with the new software upgrades.
Get the Best Resale Value
If you want to sell your old Mac, knowing its built year will help you determine the right resale price for it. This will save you from underpricing or overpricing it. Knowing this will also make you more confident during negotiations because you will have a better idea of your Mac's worth. For example, you'll know how many more years it can last and its scope for a software upgrade.
Additionally, Apple also provides credits for trading your old Macs with the company, which can help you get a discount while buying new Apple devices. In that case, knowing your Mac's age can be helpful to ensure that you are getting the right worth of credits for it.
How to find out your MacBook Air model?
There are two ways to find your Mac's built year in no time! Let's take a look:
If the MacBook Air works:
If your MacBook Air turns on, you can follow the given steps to quickly find its age:
1. About This Mac
Just like you can find your phone's details in the About section of your iPhone, you can look for your MacBook Air model number in About This Mac.
The method is extremely easy:
Turn your Macbook on.
Click the Apple menu (Apple icon) on the upper left corner of the screen.
Select About This Mac.
A window will show your Macbook Air's details, including its year of manufacture.
2. System Information
You can also find your MacBook Air's year through the System Information on your device.
Follow these steps:
Press and hold the Option key while selecting the Apple menu.
Select System Information from the menu bar.
In the left sidebar, select Hardware.
The right section will show all the information about your MacBook Air, including its year in Model Identifier.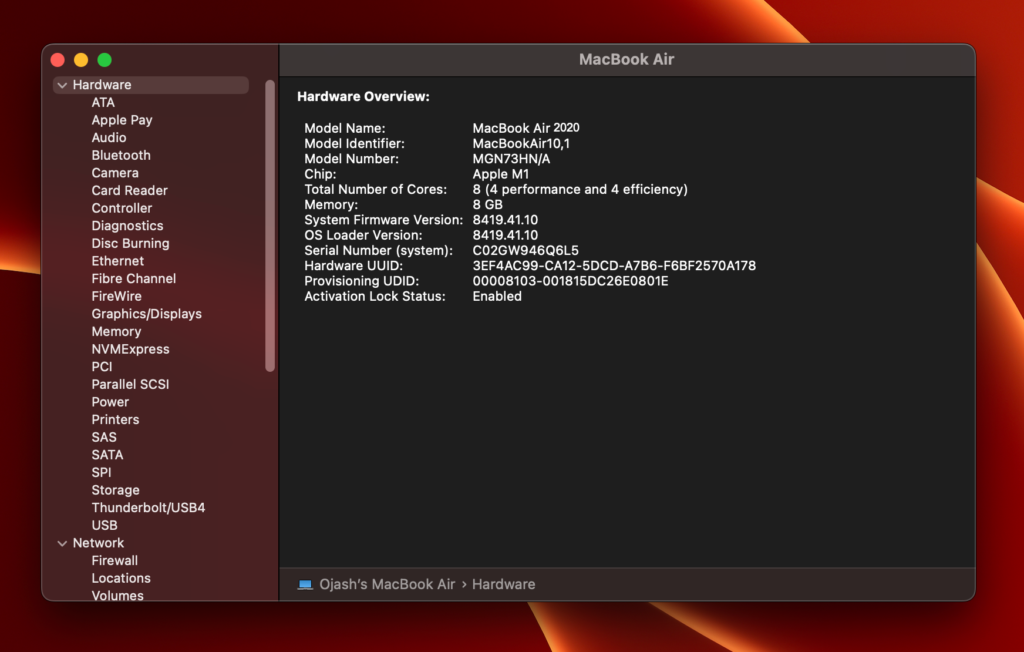 If the Macbook Air does NOT work:
If your MacBook Air is not turning on, it can be really stressful trying to find its year. Luckily, we have some effective methods here that can help you find your MacBook Air's age even if it doesn't turn on!
The only requirement is to know your MacBook Air's serial number, which you can find in a couple of ways:
On Your MacBook Air
All Macs have their serial number printed on their body. To find the serial number of your MacBook Air, just flip it, and you'll find the serial number on your device's bottom (underside).
On Your Purchase Invoice
If you still have your Mac's purchase invoice, you can use it to find your Mac's serial number. It doesn't matter whether you have purchased your Mac in person or online, you should be able to find its serial number through either the hardcopy or softcopy of the purchase invoice.
On Your Mac's Package Box
Do you still have your Mac's package box after all this time? Well, keeping it will pay off now. You can find many useful details on your Mac's package box, including its serial number.
Once you get a hold of your Mac's serial number, you can find its age on the Apple Check Coverage page by following these steps:Open the browser and go to checkcoverage.apple.com.
Enter your serial number in the box.
Enter the captcha code.
Click Continue.
The next page will show you your MacBook Air's year and other details.
FAQs
How long should a MacBook Air last?
A MacBook Air should last anywhere between 3-5 years. In good condition, it can also last 6-7 years. However, it may not receive macOS updates after seven years since Apple typically updates its existing Macs for about seven years. 
Can you update a 2014 MacBook Air?
Once a device has been around for seven years, Apple adds it to its obsolete list. So, it's hard to upgrade a 2014 MacBook Air since all the 2014 models, including the 11-inch MacBook Air, 13-inch MacBook Air, and 13-inch MacBook Pro, became obsolete on April 30th, 2022.
How long will my 2014 MacBook Air last?
A MacBook Air typically lasts 5-7 years, after which Apple considers it obsolete and no more upgrades. So, your Mac should have the same lifespan. Stated otherwise, a 2014 MacBook Air is hard to last in 2022.
Conclusion
Knowing your MacBook Air's age is important for many reasons, primarily because it keeps you informed on when to update your device. You can quickly find its age in the About This Device and System Information section. However, you can also look for its release year through its serial number. 
Every Apple device has its serial number mentioned on its underside. If your MacBook Air is too old to retain the marking, try looking for the serial number on the device's original packaging or purchase invoice. If none of the above mentioned methods work, sadly, you will need to visit an Apple store to find your MacBook Air's age.
About Ujjwal Kumar