This site contains affiliate links. As an Amazon Associate, We earn a commission from qualifying purchases at no extra cost to you.
Browsing the web these days can be a harrowing experience.
You just want to read up on the latest sports news or watch last night's Saturday Night Live skits, but instead, you're bombarded with relentless ads hawking hotel bookings, clothing, automobiles, or worse.
Sometimes the ads are embarrassing or cover the content you're trying to consume.
You might know about ad blockers, but for those using Safari on their Macintosh computers, which ad-blocking solution is the best?
If you're willing to pay some money, I recommend 1Blocker. If you're looking for a free option, go with Adblock Plus.
As a former Mac administrator and everyday Mac user, I can help you navigate the myriad options to find a program that best suits your needs.
In this article, we'll look at the three best ad blockers for Safari on macOS and which options might be best for you.
Let's get started.
Adblock for Safari
The best ad blockers for Safari are AdBlock Plus, 1Blocker, and Ghostery Privacy Ad Blocker. AdBlock Plus is free, while the other two offer monthly and yearly subscription options. Ad blockers can help make your browsing experience much smoother and easier to navigate.
The Best Safari Ad Blockers for macOS
Here are the top ad-blocking programs for Safari on macOS.
1. AdBlock Plus
Adblock Plus (ADP) is one of the oldest and most popular ad blockers. The program started as a Firefox add-on in 2006 as a spinoff of a program called Adblock.
The app came to the Google Chrome browser in 2010 and Safari in 2014.
Free and open-source, the ad blocker would be the first choice for many were it not for the controversy surrounding its Acceptable Ads program.
In 2011, Eyeo, the parent company of Adblock Plus, created an initiative called Acceptable Ads. The "feature" is turned on by default in ADP, allowing ads that "have been identified as non-annoying and non-disruptive to the user's experience."
Coming from the creators of a program called AdBlock Plus, intentionally allowing any ads was unacceptable for many users.
Philosophically, I can empathize with those who criticize ABP. With Acceptable Ads, Adblock Plus is now profiting from the very thing it was built to prevent: advertisements! It's like a personal trainer holding sessions at the back of his doughnut shop.
Regardless of your stance on the controversy, the "Acceptable" Ads feature can be disabled at any time with a few clicks– here's how:
Practically, the app works well.
Even with Acceptable Ads turned on, very few ads appear. I visited the ad-riddled Yahoo! home page and did not spot a single advertisement. On Forbes.com, a patron of Acceptable Ads, I noticed a few placeholders marked "Ad," but nothing populated the frames.
While surfing YouTube, I did not encounter any video ads.
2. 1Blocker
Cost: Free version allows one filter. Premium is $2.99 per month, $14.99 per year, or $38.99 for a lifetime subscription.
Where to get it: The Mac App Store: https://apps.apple.com/us/app/1blocker-ad-blocker/id1365531024.
Pros: Packed with features including adult content filter, social widget blocking, and custom rules. Syncs whitelist preferences with the iOS app via iCloud.
Cons: A little pricey when free options are available.
Best for: Those who like advanced features and are willing to pay some cash to get them.
1Blocker for Mac is a nifty little ad blocker users rave about. Originally an iOS app, 1Blocker came to macOS to help solve the problem of annoying ads on your computer.
Installing the app is easy via the Mac App Store, but be sure to enable permissions for its various features via the extensions tab in Safari's preferences. Otherwise, the app won't work properly.
1Blocker goes above and beyond your typical ad blocker, offering enhanced features like script-blocking, adult content filtering, and even the ability to block social media widgets. The Safari extension allows for granular control to customize your browsing experience.
Another cool feature is the ability to sync whitelisted sites and app preferences across other Mac and iOS devices via iCloud.
Nevertheless, all of these features come at a price. The app is free to download, but 1Blocker limits you to one feature at a time on the free plan. So if all you want to do is block ads, you shouldn't need to pay.
Subscriptions are $14.99 a year, but you could opt for the monthly plan for $2.99. If you try 1Blocker and love it, you can purchase a lifetime subscription for $38.99.
The lifetime subscription is the most valuable, especially if you see yourself wanting to block ads for three years or longer (at that point, you'd be saving money over the yearly subscription).
So how does the software perform?
In testing, 1Blocker blocked all advertisements on the ad-heavy Yahoo.com home page. The Safari extension also effectively prevented ads on YouTube videos.
1Blocker does not participate in the Acceptable Ads program. As the company's website states, "We think that privacy is not for sale. . . the only way we make money is through direct sales of 1Blocker."
3. Ghostery Privacy Ad Blocker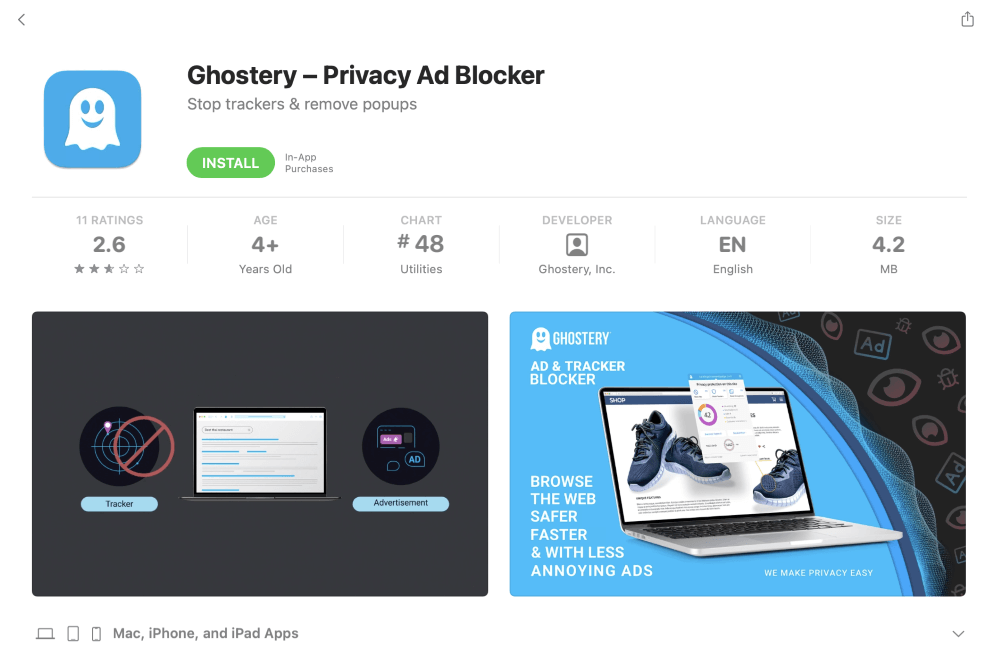 Cost: Free version available. The paid subscription costs $4.99 per month or $47.99 for one year.
Where to get it: The Mac App Store: https://apps.apple.com/us/app/ghostery-privacy-ad-blocker/id1436953057
Pros: Easy to configure and use. Strong focus on privacy. Useful stats right from the toolbar. Full-featured free version.
Cons: Poor reviews in App Store, did not block YouTube ads in our test.
Best for: Those whose primary concern is privacy.
Ghostery's primary mission is to improve privacy while navigating the Internet.
Unfortunately, this focus on privacy leaves ad-blocking as almost an afterthought. Yes, Ghostery blocked all ads on Yahoo.com, but a visit to YouTube left us dealing with a Monday.com video ad.
The software itself is easy to download, install, and configure. Just make sure to enable the extension after installing, or else it can't do its thing.
You must also open extensions in the Safari preferences pane and give the software permission to Webpage Contents and Browsing History. Click the Always Allow on Every Website… button.
One of the extension's best features is its toolbar dashboard which shows various metrics like page-load speed and number of elements blocked. You can also whitelist sites from this GUI as well.
Ghostery does have a subscription option, but as far as I can tell, the only reason to "subscribe" is to support the software developers. As the software's subscribe page reads, "For now, the subscription does not unlock any additional features, but it helps us."
At least they're honest about how they earn money! Without using a program like Acceptable Ads, a subscription model is one way the company can earn revenue.
Honorable Mentions:
While these ad blockers didn't make the top three, they are worthy of consideration:
Wipr
AdGuard for Safari
AdBlock One: Tube Ad Blocker
FAQs
Here are some other questions you might have about ad blockers for Safari on your Mac.
Which ad blocker does Apple recommend?
On the Safari Extensions page in the Mac App Store, Apple currently features Ghostery and 1Blocker.
What is the safest ad blocker for Safari on macOS?
Generally speaking, all apps on the Mac App Store, including the three mentioned in this article, are safe because they have been vetted and approved by Apple. Take a more cautious approach when installing software outside of the App Store.
What is the best free ad blocker for Safari?
Acceptable Ads controversy notwithstanding, Adblock Plus is the best free ad blocker for Safari on macOS. My runner-up is AdGuard for Safari.
Doesn't Safari block ads on its own? Why do I need an ad blocker?
It's a common misconception that Safari prevents advertisements. Safari, on its own, does not block ads. Apple's browser does support several privacy features like preventing cross-site tracking and masking your IP Address from known trackers.
You can modify these settings in the Privacy tab of the Safari Preferences window.
Reader View is another cool browser feature that works with certain web pages. Clicking the button to the left of the address bar will remove all but the page's main content.
I often forget about Reader View, but I enjoy using it when I remember to turn it on.
Conclusion: Finally, You Can Surf the Web in Peace
Undoubtedly, advertisements on web pages can be intrusive, annoying, and embarrassing. On poorly coded websites, ads can render the page unusable. Ad blockers can help combat these pesky nuisances.
Nevertheless, on websites that provide great content for free, you might consider allowing ads. Advertising revenue is the sole source of income for many content creators, so by enabling ads, you are helping support those who inform or entertain you. Any good ad blocker will allow you to whitelist individual sites.
Regardless, I hope you have found this ad blocker round-up helpful so you can surf the Internet in peace.
Have you tried any of these ad blockers for Safari? Which one is your favorite?
About Andrew Gilmore