This site contains affiliate links. As an Amazon Associate, We earn a commission from qualifying purchases at no extra cost to you.
Whether you're running out of disk space or simply want to ensure you keep your Mac running smoothly, you might wonder if the software called CleanMyMac X is a good option.
Is the program safe? Yes, CleanMyMac X is safe, and there are many reasons why.
As a former Mac administrator, I'll give you five reasons why CleanMyMac X is a harmless option for your Mac.
In this article, we'll look at five ways you can be sure the program is safe.
Let's get started.
What Is CleanMyMac X?
CleanMyMac X is a Mac cleaner app designed to do just what its name implies: clean your Mac of unwanted and unneeded files so you can reclaim storage space on your hard drive.
Software company MacPaw released the first version of CleanMyMac in 2008. The latest version, X, came out in 2018–versioning that memorialized the tenth anniversary of the software.
Over the years, the developers have added additional features so that CleanMyMac X does more than remove unnecessary files and folders. The software claims to provide malware protection, speed optimization, application update and uninstall help, and even a secure file shredder to eliminate all traces of sensitive files.
The software is available from macpaw.com and the Mac App Store, although some features are lacking from the App Store version, like the file shredder and software updater. You can read the complete list of differences here.
5 Reasons CleanMyMac X Is Safe
If you're questioning the safety of CleanMyMac X, you're wise to do so. Not because we consider the software unsafe, but because you should question the validity of any third-party software before installation. We believe CleanMyMac X is safe. Here are five reasons why.
1. It's in the Mac App Store
Although CleanMyMac X was released in 2018, it wasn't until 2020 that the software came to the Mac App Store.
Why is it significant that CleanMyMac X is in the App Store?
Because while anyone could write a PKG or DMG file, you could install it on your Mac, App Store submissions undergo a stringent review process. In fact, safety is Apple's number one review guideline for new apps.
Therefore, if you're skittish about the software, you might obtain it from the App Store rather than from the developer's website.
2. The app has positive reviews
Speaking of the App Store, CleanMyMac X has many positive reviews on that platform. With over 5,000 reviews, the software has a 4.6 out of 5 rating in the store as of this writing.
3. The developer has been in business a long time
As mentioned above, software developer MacPaw released the first version of CleanMyMac in 2008. To put that date in perspective, Barack Obama had not yet been sworn in as president.
In other words, CleanMyMac has survived for quite a while. And while longevity isn't a 100% guarantee of safety, it usually means the software does something right. Amateur developers and malware programs get shut down pretty quickly.
4. Trusted tech sites give CleanMyMac X high praise
Another indicator of CleanMyMac X's safety is the praise the software receives from professional reviewers. Several well-known tech sites give CleanMyMac X positive reviews.
9to5Mac, for example, said CleanMyMac X is "one of the best macOS maintenance applications." ZDNet called the software the "best way to declutter your Mac."
That's not to say that every review of CleanMyMacX is positive, but the fact that two high-profile tech websites give the software high marks is reassuring.
5. CleanMyMac X is notarized by Apple
macOS includes a security feature called Gatekeeper, which verifies software you download before allowing it to run the first time. (This feature can be disabled, but Gatekeeper is turned on by default.)
When opening a downloaded program, your Mac examines the installer or the app file to determine if Apple has notarized it. If so, you get a pop-up asking if you want to run the software. Below that, you'll see a message that "Apple checked it for malicious software, and none was detected."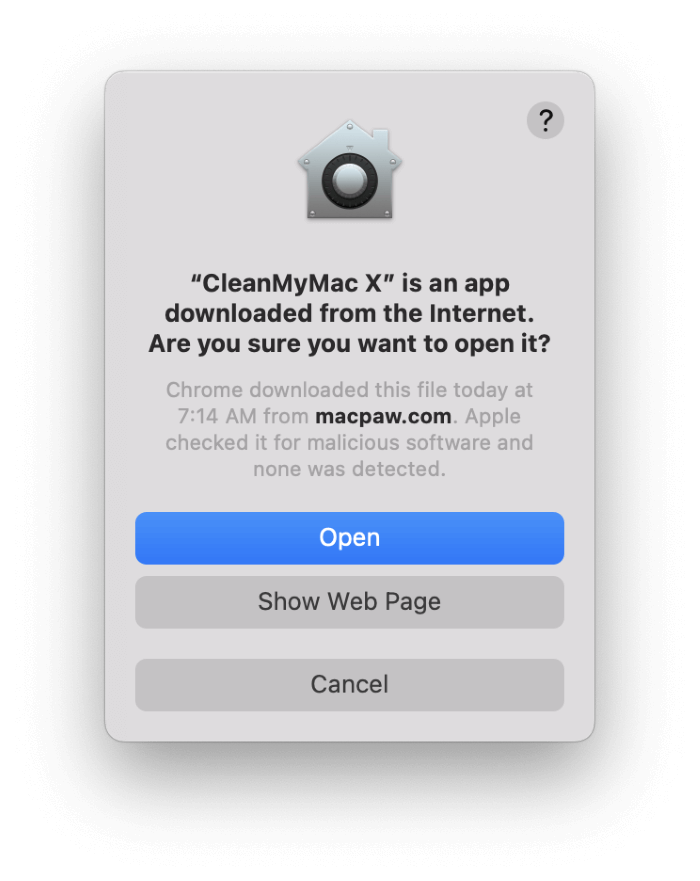 What does this mean?
It means that the developer, MacPaw, submitted the software to Apple for notarization, and Apple scanned the software for malicious content. If none is found, the Gatekeeper service generates a "ticket" and attaches it to the software, proving it has passed inspection.
Although no security method is 100% effective, CleanMyMac's notarization status further confirms that the software is safe to run on your Mac.
FAQs
Here are some other questions you might have about CleanMyMac X.
Is CleanMyMac free?
No.
You can purchase a one-time perpetual license for $89.95. With this option, you are not entitled to significant upgrades. This option is not available via the Mac App Store.
Another option is to pay $39.95 for a one-year license that includes all updates at no additional cost.
Last, you can rent the software on a monthly basis via Setapp's Mac app subscription package.
Does Apple recommend CleanMyMac X?
No.
CleanMyMac X is a third-party application. In general, Apple doesn't recommend third-party software except for its Editors' Choice award in the Mac App Store.

CleanMyMac X does not currently have this badge.
Is CleanMyMac X malware?
No.
Since the software is available in the Mac App Store, and Apple has notarized the non-App Store version, it is safe to say that it does not contain malware.
Just be sure you're downloading CleanMyMac X from MacPaw's website if you're not using the App Store app.
Malicious developers could potentially decompile and repackage the app with embedded malware, although in doing so the app would lose its notarized status.
Conclusion
Whatever else one could say about the software, CleanMyMac X is safe to install on your Mac. That's not to affirm nor deny the effectiveness and value provided by the application, but rather to give you comfort in the knowledge that CleanMyMac X isn't going to crater your computer.
Have you tried out CleanMyMac X? What do you think of the software?
About Andrew Gilmore