This site contains affiliate links. As an Amazon Associate, We earn a commission from qualifying purchases at no extra cost to you.
Your MacBook's battery is a crucial component that powers your Mac and helps you stay productive on the go. With technological advancements, laptop batteries today can hold a charge for far longer than their predecessors did a decade ago. However, even the best batteries have their limits and will eventually need to be replaced.
Apple stores offer MacBook Pro battery replacement services, so you can have a new battery installed when the time comes. By keeping track of the number of cycles your battery goes through, you can get a good idea of a battery life before needing a battery replacement. Remember, a healthy battery life means a happy Mac!
What is the Battery Cycle?
A battery cycle is when you charge your MacBook's battery to 100% and use it until completely drained. After a certain number of battery cycles, your battery's overall power will diminish, and it won't last as long as it used to. Although MacBook Pro batteries are designed to last a long time, they will eventually wear down and must be replaced. You may notice that your battery doesn't hold a charge for as long as it did when it was new.
How Many Cycles Can MacBook Battery Go Through?
The estimated number of cycles your battery can go through before needing to be replaced can vary by the model and year of your MacBook Pro. The average number of battery cycles is 1000 but can be as low as 300 for some really old models. Some models are 500.  According to the official Apple guide, the following are the estimated number of cycles:
| | |
| --- | --- |
| MacBook Model | Estimated Number of Cycles |
| MacBook Air (2018 or later) | 1,000 |
| MacBook Pro (16-inch, 2019) | 1,000 |
| MacBook Pro (15-inch, 2018 or later) | 1,000 |
| MacBook Pro (13-inch, 2018 or later) | 1,000 |
| MacBook Air (2017 or earlier) | 500 |
| MacBook Pro (15-inch, 2017 or earlier) | 1,000 |
| MacBook Pro (13-inch, 2017 or earlier) | 1,000 |
Number of Battery Cycles
Note that these are just estimated numbers, and the number of cycles your battery can go through before needing a replacement may vary based on usage patterns and environmental conditions.
The battery is considered consumed once it reaches the limit. Keep in mind that these are only estimates, and each battery life can vary.
According to Apple,
The MacBook Pro battery is designed to hold 80% of its total charging capacity for at least these estimated battery cycle count numbers.
After the maximum cycle count limit, the battery will still function but not hold a charge for as long. Remember that one full battery cycle is from complete charge to complete battery drain, which may happen over several days of average use.
How To Determine Battery Cycle Count
It's really easy to figure out how many battery cycles your MacBook battery has gone through. It can keep track of the information when you might need a new battery or troubleshoot a reason why the computer's performance is being affected.
I have explained 3 methods to determine the battery cycles. You can choose one as per your ease.
1. System Information
One easy way to determine the battery maximum cycle count on your MacBook Pro is by using the System Information feature. This method works for all Mac laptops, including MacBook Pro, MacBook Air, and MacBook.
To determine battery cycle count using System Information, follow these steps:
Click on the Apple menu in the top-left corner of your screen.
Select About This Mac from the dropdown menu.
Click the More Info button on this screen.
Click the System Report button.
In the left-hand column, find and click Power.
Look for the Cycle Count entry in the main window. It will show you the number of battery cycles your MacBook Pro has gone through.
2. Using Coconut Battery
Coconut Battery is a free third-party app that allows you to easily check the health and current cycle count of your MacBook's battery. It provides an easy-to-understand interface with additional information, such as current capacity, load cycles, temperature, and battery discharge rate. Here are the steps to determine the battery cycle count using Coconut Battery:
Download and install Coconut Battery from its official website.
Open the app, and it should automatically detect your MacBook battery information.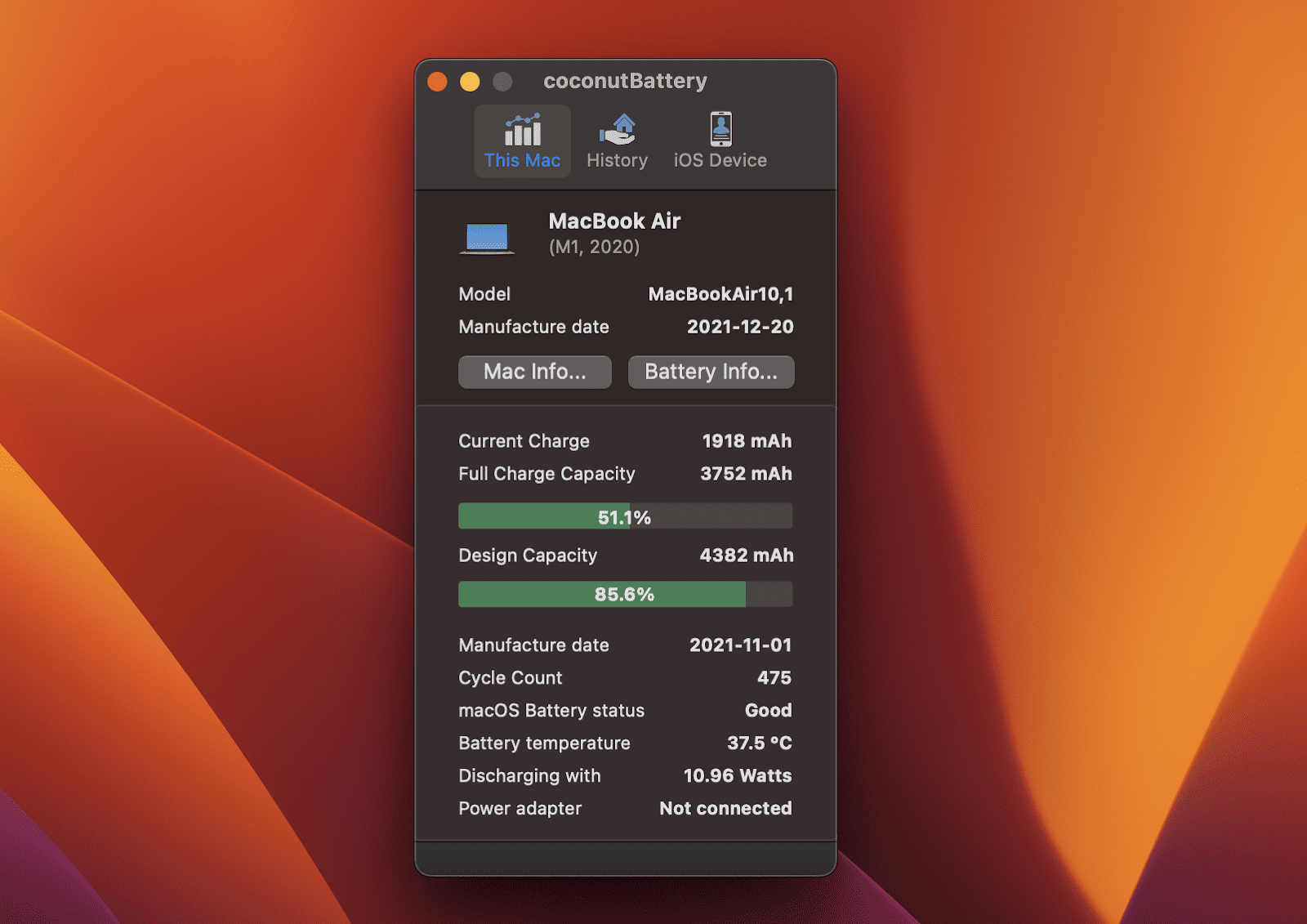 Look for the Cycle Count section, which will display the number of cycles your battery has gone through.
You can also check the battery's overall health, current charge level, and other details in the app.
3. Using Terminal
The Terminal is a built-in macOS program allowing users to access the system's command-line interface. Using Terminal, you can access your MacBook battery cycle count and other important system information.
Steps:
Open Terminal on your MacBook pro. You can do this by searching for Terminal in Spotlight or by navigating to Applications > Utilities > Terminal.
Type the following command in Terminal: ioreg -l -w0 |grep Capacity. This command will display your MacBook battery information, including the current cycle count.
Look for the line that says CycleCount. The number next to it is your MacBook pro current battery cycle count.
How To Determine Battery Health
Another thing you will want to pay attention to is battery health/ battery life. If you look in the above image, you will see it lists Condition under the cyclecount. To determine the health of your MacBook pro battery, there are a few parameters that you can look at. Here are some of the most important ones:
Cycle Count: As discussed earlier, the maximum cycle count is the maximum number of times your battery has gone through a complete charge cycle and discharge cycle. Most MacBook batteries are designed to last for around 1000 cycles (i.e cycle count limit). Once you reach this limit, your battery's health and performance will degrade.
Full Charge Capacity: This is the maximum charge your battery can hold. Over time this capacity will naturally decrease due to regular usage and wear and tear.
Battery Health Percentage: This is an estimate of your battery's overall health and capacity based on the current cycle count and full charge capacity.
Quick Way to Check Battery Health:
There is a way to quickly and easily check on the condition of your battery instead of going into the System Information menu.
Click on the battery icon in the menu on the right-hand side of your screen and you will see a couple of pieces of key information regarding your battery.
Depending on the macOS your MacBook pro is running, this may also tell you your battery condition as well as the battery percentage of remaining battery life. You can also click on Battery Settings to learn more.
Next to the Battery Health tab [below the battery icon] , click the "i" icon to open a detailed window with more information about your MacBook pro battery.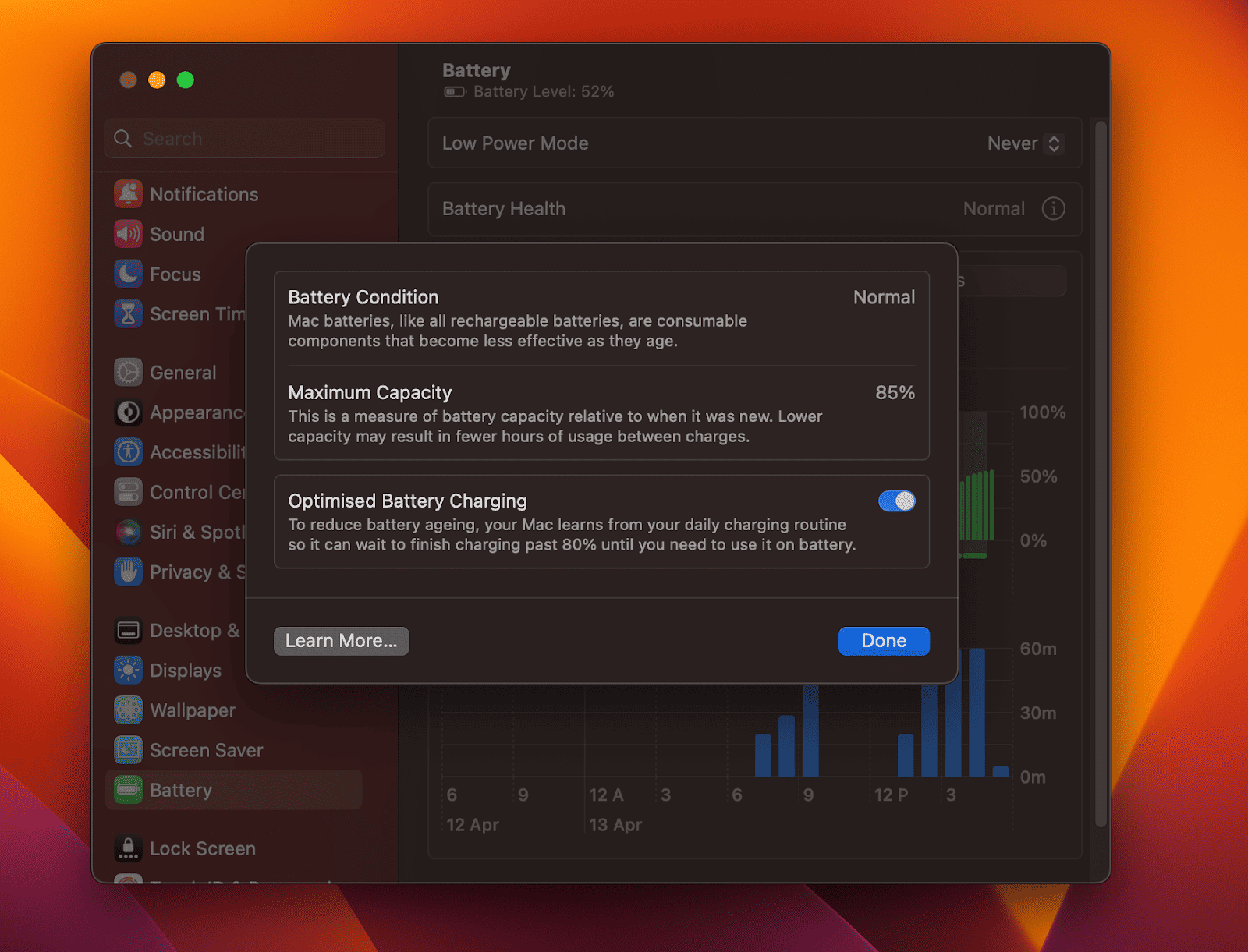 Yes, the Battery Condition shows Normal.
Based on the Battery Health / battery life, any condition can come up as these:
| | |
| --- | --- |
| Battery Status | Meaning |
| Normal | Battery is functioning perfectly fine |
| Service Battery | Battery has an issue that needs to be addressed, should be taken to a repair or service center |
| Replace Soon | Battery has exceeded its estimated maximum cycle count, not holding charge well, and should be replaced soon |
| Replace Now | Battery is quickly losing charging capacity and should be replaced immediately as it may not last long without being plugged in |
Frequently Asked Questions
Should I keep my MacBook Pro plugged in all the time?
Keeping your MacBook Pro plugged in all the time can lead to overcharging and reduce the battery life. It's recommended to unplug your MacBook Pro once it's fully charged and let it discharge to about 20-30% before plugging it back in.
Does charging my MacBook Pro overnight damage the battery?
Charging your MacBook Pro overnight can damage the battery if it leads to overcharging. However, most modern MacBook Pro models have smart battery technology that automatically stops charging once the battery is full, so leaving it plugged in overnight is safe.
What is a good battery cycle count for MacBook Pro?
A good battery cycle count for a MacBook Pro depends on various factors such as usage, charging habits, and battery health. Generally, a MacBook Pro battery can last up to 1000 cycles before it needs to be replaced. However, if you take good care of your battery and follow best practices, you can extend its life beyond that.
Final Words
Knowing the maximum cycle count for your MacBook Pro's battery can help you determine when it might be time to replace it as well as give you an understanding of the overall health and performance of the computer.
It's an easy maintenance task to keep track of every once in a while and a good skill to learn that should be no problem to remember.
How many cycles does your MacBook battery have.
About Eric