This site contains affiliate links. As an Amazon Associate, We earn a commission from qualifying purchases at no extra cost to you.
The 14-inch and 16-inch 2021 MacBook Pro laptops are powerful machines capable of performing a wide variety of professional and personal tasks. Even so, they can have limitations if you have high connectivity needs that require more ports than what comes built-in.
That's where a docking station can help you out. These stand-alone devices can seriously expand your connectivity needs by simply plugging into one of the ports on the side of your MacBook Pro.
This post will show you all of the best docking stations compatible with the 2021 MacBook Pros with M1 Pro or M1 Max chip, which includes the 14" and 16" models. The docking stations you'll see here are some of the best on the market and come highly recommended.
Let's get started.
Do I Need a Docking Station for My MacBook Pro?
Not everyone needs a docking station for their MacBook Pro. Still, if you have ever run into issues with not being able to connect enough devices to your computer, you will probably benefit from having one.
The 2021 MacBook Pros come equipped with three Thunderbolt 4 ports, an HDMI port, and an SDXC slot. That might be enough for the average user, but if your needs extend beyond these offered ports for whatever reason, a docking station will help you out.
One of the primary uses for a docking station is connecting multiple monitors. If you need to use two, three, or even more monitors simultaneously, you'll need a high-quality docking station to make this possible.
If you don't have extra connectivity needs or only want a few additional ports, you might not need a docking station. You can also get USB-C hubs, which are a little more affordable but not quite as capable as docking stations.
Note: a MacBook Pro USB-C hub may be a better choice for you. Read this article USB-C hub vs docking station to learn the differences.
Best Docking Station for MacBook Pro: Top Picks
Here are all of my top picks for the best docking station for MacBook Pro. All of the models you see in the sections below are built to be compatible with the 2021 MacBook Pro models and make for a solid increased connectivity solution.
Best for: Wide Connectivity
Key features: Lots of ports for broad connectivity, high-speed transfers and charging, supports up to [email protected] with Thunderbolt 4 ports
Number of Ports: 12
Backward Compatible: Not-specified
Cost: $$$$
The Anker 777 Thunderbolt Docking Station is a solid option for 2021 MacBook Pro users who want wide connectivity. With 12 ports, this model gives you many different ways to connect all sorts of devices.
This docking station comes equipped with Thunderbolt 4 upstream and downstream ports, 2 HDMI ports, an SD card slot, an ethernet port, 3.5mm aux port, and 4 USB-A ports. This gives you plenty of options, no matter what you need to connect to your computer.
The Anker 777 also provides you with high-speed data transfer and charging capabilities. The Thunderbolt 4 ports can transfer 20GB files in just over 10 seconds, and the 90W charger will power up your phone or anything else with a battery quickly.
It's a more than capable connectivity solution that will meet the needs of many people. The only real downside for this high-end performance is that this is an expensive docking station and not a budget choice.
Best for: Future Proof
Key features: Future proof and backward compatible, Thunderbolt 4 certified, ten ports, dual monitor support, pass-through charging
Number of Ports: 10
Backward Compatible: Yes
Cost: $$$$
If you want to make sure your docking station doesn't become obsolete in a few years, the Razer Thunderbolt 4 Dock features a future proof design that should provide you with seamless connectivity for a long time.
This model has ten ports, including one upstream and three downstream Thunderbolt 4 ports for high-speed connections and transfers. It also has an SD card slot, 3.5mm audio port, ethernet port, and three USB-A 3.2 ports.
Another good feature of the Razer Thunderbolt 4 is pass-through charging that allows you to keep your MacBook Pro charged up and ready for action, even with all of the other ports in use for different devices.
You also get a simple and sleek design here, which will blend in readily at your desk or workspace and not take up too much room. The downside is that this is another pretty expensive docking station.
Best for: 14" MacBook Pro
Key features: Compact design, large number of ports, pass-through charging, stable performance, fast data transfers
Number of Ports: 12
Backward Compatible: Not Specified
Cost: $$
The IVANKY 12-IN-2 MacBook Pro Docking Station is a good option to go with if you have a 14" 2021 MacBook Pro. It's fully compatible with this laptop and will give you comprehensive connectivity thanks to 12 ports.
This one will allow you to connect two external displays at the same time through the included HDMI ports at 4K resolution up to 30Hz. You also get the handy benefit of pass-through charging to keep your computer's battery full and ready for anything.
This IVANKY dock can provide you with expansive capabilities that come in useful to connect or work with many devices simultaneously. With the USB-C port, you can get fast data transfer speeds of up to 5Gbps.
The docking station will work with the 14" MacBook Pro but not the 16" model. Just keep that in mind because you'll need a different dock if you have the larger laptop.
Best for: Multiple Monitors
Key features: Good option for multiple monitors, innovative design, high-speed transfer capabilities
Number of Ports: 10
Backward Compatible: Yes
Cost: $$$
The Tobenone Laptop Docking Station Stand is a solid option that features an innovative design and can support multiple monitors to use with or alongside your 2021 MacBook Pro.
The docking station stand has ten different ports for wide connectivity, including 2 HDMI ports, 1 VGA port, 1 USB-C port, 2 USB 3.0 ports, an SD/Micro SD card slot, an Ethernet port, a USB C PD 3.0 port, and a 3.5mm audio port.
The design of this one stands out because it functions as a stand for your MacBook when you connect it to external monitors. This can help you clean up your workstation and keep everything well organized.
The unique design makes it a bit larger than other options, so if you don't need to connect multiple monitors, this might not be the one for you.
Best for: Transfer Speeds
Key features: High transfer speeds, lots of ports, 90W power delivery for charging, can support high-def resolutions
Number of Ports: 12
Backward Compatible: Not specified
Cost: $$$$
The Belkin Thunderbolt 4 Dock Pro is capable of blazing faster transfer speeds of up to 40Gbps. This can be useful if you have demanding connectivity needs and want things to go quickly.
The dock also features 12 different ports to provide excellent connectivity in many different situations. It makes this model another good option for pairing multiple monitors simultaneously.
You can also power up and charge all of your devices, thanks to charging power of up to 90W.
This is another high-performance option that comes with a high price tag. It's one of the most expensive options on this list.
Best for: OS/Windows Use
Key features: Can work with MacBook Pro and Microsoft Surface Pro, supports dual display, speeds of up to 40Gbps, three-year warranty
Number of Ports: 11
Backward Compatible: Not specified
Cost: $$$$
If you have a MacBook Pro and a Microsoft Surface Pro 8, the Kensington SD5750T Thunderbolt 4 Docking Station will allow you to expand the connectivity of both devices easily and effectively.
This one features 11 ports to give you broad connectivity to use all of your favorite devices or pair multiple monitors simultaneously. You can use 3 Thunderbolt 4 ports to daisy-chain thunderbolt devices and get fast speeds down the entire line.
Another nice feature is a three-year warranty and lifetime technical support to give you added peace of mind if you ever run into any issues.
This is another expensive dock, but its impressive performance and capabilities are worth it if you can afford it.
Best for: Budget Option
Key features: Affordable, compact design, effective performance, multiple monitor capabilities, Thunderbolt certified
Number of Ports: 5
Backward Compatible: Yes
Cost: $$
The OWC Thunderbolt Hub is an affordable option with an approachable price tag while still offering quality performance and connectivity.
This model provides you with 4 Thunderbolt 4 ports and 1 USB 3.2 Gen 2 Type-A port, allowing you to connect multiple Thunderbolt-equipped devices at the same time.
You can also use the ports to charge up or power Thunderbolt devices, and the hub has an adjustable LED to give you customizable lighting to highlight your workspace.
This one doesn't have as broad of capabilities as other docking stations on the list, but a more affordable price makes it pretty attractive, nonetheless.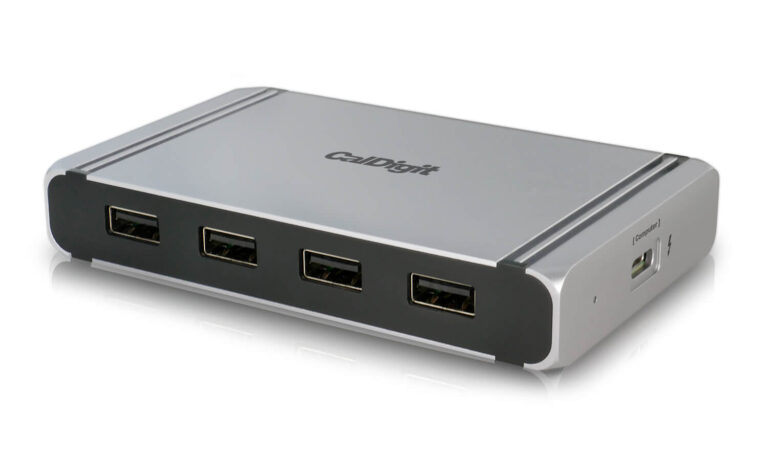 Best for: Versatile Use
Key features: Versatile Thunderbolt use, compact design, supports high-resolution displays
Number of Ports: 8
Backward Compatible: Yes
Cost: $$$
The CalDigit Thunderbolt 4 Element Hub is another Thunderbolt and USB-equipped docking station that makes it a versatile connectivity solution.
This model includes 4 Thunderbolt 4 ports for high-speed transfers of up to 40Gbps and 4 USB 3.2 Gen 2 ports for broad USB compatibility.
You can also use the dock to charge up to 7 additional devices while still having it connected to your computer, thanks to 60W power delivery. It also has a compact design that will easily work with nearly any desk or workspace.
You are limited with only two types of ports here, but it is still a highly effective docking station if it meets your needs.
Best Docking Station for MacBook Pro: What to Consider
Here are some essential things to consider when choosing a docking station for your MacBook Pro. These will help you find a model that best suits your needs.
Number and Type of Ports
The most significant factor you want to pay attention to when choosing a docking station is the number and type of ports that it has. This will help you make sure it can meet all of your additional connectivity needs and not leave you short of a port when it's needed.
Most docking stations will have anywhere from 5 to 12 total ports. Depending on how many devices you want to connect, you'll want to ensure that you have enough ports to get everything plugged in at once.
You also want to pay attention to the type of ports that the docking station has. Even if it has a high number, it won't be very useful unless it has the specific port you need to connect additional monitors or other devices.
Types of common ports include USB-C, USB 3.1, HDMI, Thunderbolt 4, 3.5mm audio, SD card slots, and ethernet. You'll want to take a look at the specs of each device before purchasing to ensure it will provide you with the ports you need.
Compatibility
Every docking station that you see in this post is compatible with the 2021 MacBook Pro. However, if you want to look at additional options or have a different year MacBook Pro, you need to make sure that the docking station you choose is compatible with your computer.
Compatibility usually comes down to the type of ports the computer has to ensure the docking station can plug into it. If you get a docking station without the correct connecting cable or style, there won't be a port to connect it to your computer.
Just double-check for this compatibility before purchasing. Most models will list compatibility within their technical specs, but you can also look at pictures to see what sort of output connection the docking station has.
Power Source/Charging
Most docking stations have their own dedicated power source. This means they will have an electrical connection or power cord that needs to be plugged in for the station to turn on.
Some smaller models offer flow-through powering, which means they don't have a dedicated power source and instead power up through the battery or power source from your computer. This can take up a port, which can limit total possible connectivity.
In addition to knowing how the docking station powers up, you should also consider whether it can charge other devices. Some models offer offline charging, so you can plug in and charge devices even when the station isn't connected to your computer. It's a pretty nice feature.
Cost
Like any tech product, cost is another major factor to consider with docking stations. Some models can get pretty expensive. If you have extensive connectivity needs and require many high-speed ports, you'll pay more to get all of those features.
If you don't need as many ports or high-speed connections, you can go with a cheaper option and save some money. More affordable docking stations won't necessarily be as capable, but they can cost hundreds less than high-end models.
FAQs
Here are a few quick answers to some of the most common docking station and MacBook Pro questions.
Can I use these docking stations for other laptops?
Always check the technical specifications to determine the compatibility these docking stations offer. While they all work with 2021 MacBook Pros, they don't provide universal compatibility with all other laptops.
How many monitors can a MacBook Pro support?
The new MacBook Pro with the M1 Pro chip can support two external displays or monitors with up to 6K resolution at 60Hz. New MacBook Pros with the M1 Max chip can support three external displays with up to 6K resolution and one display up to 4K.
Does Apple have a docking station?
Apple does not make a branded docking station. The company lists a few different docking stations on its website, like the Belkin Thunderbolt 3 Dock Pro, but they do not have an Apple-branded docking station available.
How do I dock my MacBook Pro on two monitors?
To dock two monitors on your MacBook Pro, you need to connect the monitors to your laptop using the computer's ports or a docking station. Most monitors will connect through HDMI or Thunderbolt 4 ports.
Is Thunderbolt 4 ports the same as USB-C ports?
They are universal, but not entirely the same. Thunderbolt 4 is a technology that works through the new USB-C terminals to transfer data times faster than on the latest USB-A and is being utilized in the ports on your new MacBook. You can learn more about Thunderbolt 4 by watching this short video on YouTube.
What's the Downside of USB-C and Thunderbolt 4?
The only downside is that many devices have not made the switch to USB-C outputs, which means you still need to connect to ports such as HDMI or SD slots that no longer exist on your Mac.
This problem can be solved by purchasing a ton of dongles or just a single dock, which is a device that contains all the legacy ports but connects to your Mac via the USB-C port. It allows you to use everything you normally would without worrying about the lack of built-in ports on your Mac.
Final Thoughts
While it's annoying to wait for the rest of the tech industry to catch up with the technology Apple has implemented, there are still plenty of ways to use your accessories with the modern MacBook Pro.
Docking station is one option. These docks can help you expand your connectivity capabilities and do things like connect multiple devices at once or use two or more monitors simultaneously.
The docking stations you see on this list are some of the best models currently available compatible with the 14" and 16" 2021 MacBook Pro laptops. All of these docks can help you increase the power of an already very capable computer.
Do you already have a favorite docking station for your new MacBook Pro? Tell us about it by leaving a comment below.
Feature image credit to Kensington.com.
About Eric