This site contains affiliate links. As an Amazon Associate, We earn a commission from qualifying purchases at no extra cost to you.
Using your fingerprint for authentication on the MacBook Pro is a tremendous convenience and time saver for Mac users. Once you enable and configure Touch ID, Apple's fingerprint recognition technology, you'll wonder how you ever lived without it.
To enable Touch ID on your MacBook Pro, open System Preferences (System Settings on macOS Ventura and above) and then click on "Touch ID." Click "Add Fingerprint," authenticate with your password, and then follow the on-screen instructions to scan and record your fingerprint.
I'm Andrew, a former Mac administrator. In this article, I'll detail two options for using Touch ID, configuration considerations, and answer some common questions about Touch ID on the MacBook Pro.
Let's dive in.
How to Enable and Set Up Touch ID on Your MacBook Pro
To set up Touch ID, open System Preferences (System Settings on macOS Ventura and above) from Launchpad or the Apple menu in the top left corner of the screen. Click on Touch ID.
Click Add Fingerprint.
Enter the password for your user account and click OK. You must set a password for the currently logged-in account to activate Touch ID.
Choose a finger that will be easy and comfortable to scan when needed. The right index finger is a common option because the fingerprint reader (which also doubles as the power button) is at the top right corner of the keyboard.
Gently rest and lift the pad of your selected finger on the reader.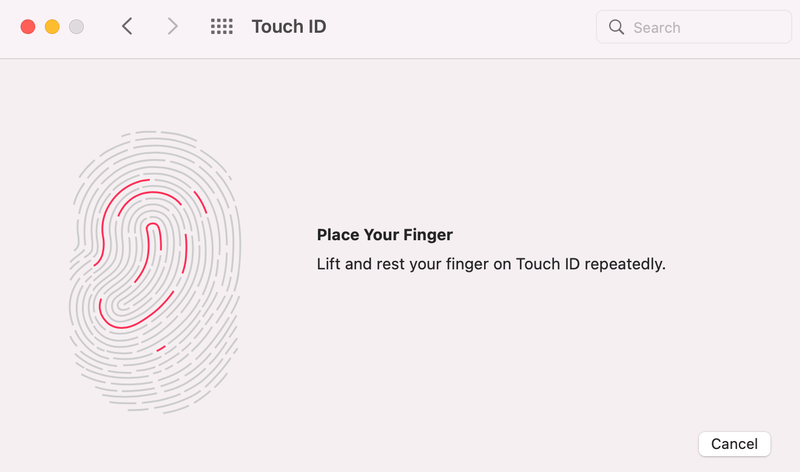 Repeat this motion until the utility instructs you to capture the edges of your fingerprint, approximately 5 – 10 times. Adjust the position of your finger so that you rest the edges on the reader.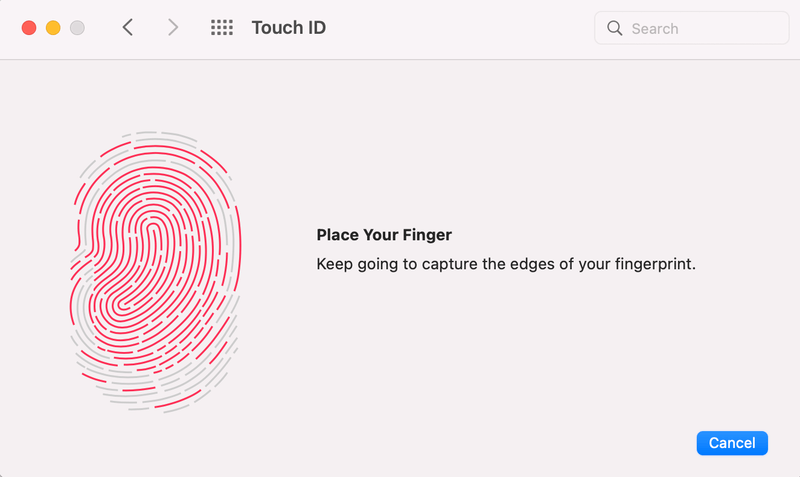 When finished, you'll get a message that Touch ID is Ready. Be sure to click Done to complete the process and save the fingerprint on your MacBook Pro.
How to Set Up Touch ID on Magic Keyboard
If you have one of Apple's Magic Keyboards with Touch ID, you might wonder if you can use the biometric feature with your MacBook Pro.
The answer is yes if you have a supported model. The only MacBook Pros that can take advantage of the Magic Keyboard's Touch ID feature are those with Apple Silicon chips.
I know what you might be thinking. Why would I need Touch ID on the Magic Keyboard if my MacBook Pro already has the feature?
You can't take advantage of the built-in keyboard's Touch ID feature if you use your MacBook Pro with an external monitor with the lid closed. The Magic Keyboard remedies this problem.
Enabling Touch ID with the Magic Keyboard is the same procedure as above, with only a few extra steps.
First, you need to pair the keyboard to your MacBook. Switch on the device and plug it into your MacBook using the cable provided. (Once paired, you can remove the cable for wireless use.)
Now you can go to Touch ID in System Preferences (System Settings on macOS Ventura and above) and click Add Fingerprint as before. Place your finger on the Touch ID sensor on the keyboard. Once your Mac recognizes the fingerprint, the computer will prompt you to Double-Press Touch ID on your Mac.
Press the power button (Touch ID sensor) on your MacBook Pro twice. This step serves as a kind of secure negotiation between the keyboard and Mac. From then on, the process is the same as above.
Once your fingerprint is added, you can use Touch ID on the Magic Keyboard just as you would on the MacBook directly. You can even press the Touch ID button to lock and unlock your Mac's screen.
Touch ID Configuration Options
As you can see, enabling Touch ID on your MacBook Pro is a pretty simple process, but there are a few configuration options to consider.
First, just because you can use Touch ID to unlock your computer does not mean you can forget your password. You will still have to enter your password every time your MacBook reboots or starts up from a shutdown state.
macOS also requires you to re-enter your password after five incorrect fingerprint readings and every 48 hours. In these cases, you'll get a message at the login screen, Your password is required to enable Touch ID, as in the screenshot below.
Renaming Fingerprints
In the Touch ID pane, you can rename your fingerprint to something more meaningful, like "Right index finger," for example. Just click on the Finger 1 name and then type in your own.
Touch ID Options
You can also choose what you want to use Touch ID for. Your options are Unlocking your Mac, Apple Pay, iTunes Store, App Store & Apple Books, Password AutoFill, and Use Touch ID sensor for fast user switching.
All these options are enabled by default when you add your first fingerprint, but you can disable any you don't want to use. The last option is for Macs with multiple user accounts, each with their own Touch ID fingerprints.
You can have up to five total fingerprints stored on the MacBook Pro, with a maximum of three per user account.
To delete a fingerprint, simply hover your mouse pointer over the fingerprint icon in System Preferences (System Settings on macOS Ventura and above) and click on the X that appears in the upper left corner.
FAQs
Here are some other questions you might have about enabling Touch ID on your MacBook Pro.
Does my MacBook Pro support Touch ID?
MacBook Pros beginning with the Late 2016 13" and 15" and the later 16" models, support Touch ID.
Why is Touch ID not working on my MacBook Pro?
Several issues can prevent Touch ID from working. Dirty fingers or a soiled Touch ID sensor can prevent a proper read.
Touch ID won't work if you don't have a password set on your user account or if you have too many fingerprints already stored on your Mac.
If none of these are the culprit, you might possibly have a hardware problem. Contact Apple support for help.
Is Touch ID secure?
Your fingerprints are stored in what Apple calls a secure enclave, meaning the biometric data never leaves your MacBook.
Touch ID: Making Your Computing Life a Little Easier
Touch ID is a convenient way for you to use your Macbook Pro more efficiently without sacrificing security. In typical Apple style, the feature is easy and straightforward to enable and configure.
Do you use Touch ID on your MacBook Pro? What do you like most about the feature?
About Andrew Gilmore