This site contains affiliate links. As an Amazon Associate, We earn a commission from qualifying purchases at no extra cost to you.
To access Apple services such as the App Store, Music, iCloud, and Apple Pay, you need to keep your Apple ID secure. And it is important to keep changing your password no matter how secure the Apple ecosystem might be. So, we have curated this guide that will help you change your Apple ID password using a few simple steps.
Now, before you can start changing your password, it is important to note that once you change it, you will be logged out of all your devices. Furthermore, if you have activated the two-factor authentication, you will need access to another device while changing the password. Hence, make sure that particular device is with you.
Hey, I am Kanika, and in this article, we will be learning everything there is to help you change your Apple ID password. This process is super easy, so let's get right to it.
How do you quickly change your Apple ID password on a Mac?
Log in to your Mac and head directly to the Apple menu on the top-left corner of your desktop. Open System Settings from the drop-down menu. Now, click on your Apple ID on the top and choose Password & Security. Beside the Password option, select Change Password. Enter the password you use to unlock your Mac. Now, enter the new password and verify it again.
This is only for your Mac. You can also use your other Apple devices to change your Apple ID password.
Methods to change your Apple ID password
Here, we will be looking at the methods to change the Apple ID password directly from the official Apple website and your IOS devices. Follow the steps below.
1. Through Apple.com
Apart from using your Mac to change the Apple ID password, you can go to the official site on your browser and change the password. It is pretty simple.
Visit appleid.apple.com and sign in.
Go to the Sign In and Security section and click on Password.
Now, enter the current password, and the new password, and then Confirm New Password.
Click on Sign out of Apple devices and Websites with your Apple ID.
You will be logged out of all your Apple devices and websites as soon as you do so. Now, you can use the new password and log in again.
2. Through iOS devices
Next up, if you own any iOS device such as iPhone, iPad, iPod touch, or Apple Watch, you can use the following steps to change the password.
Unlock your iPhone and then go to Settings.
Now, click on your Name.
Go to Password and Security.
Click on Change Password.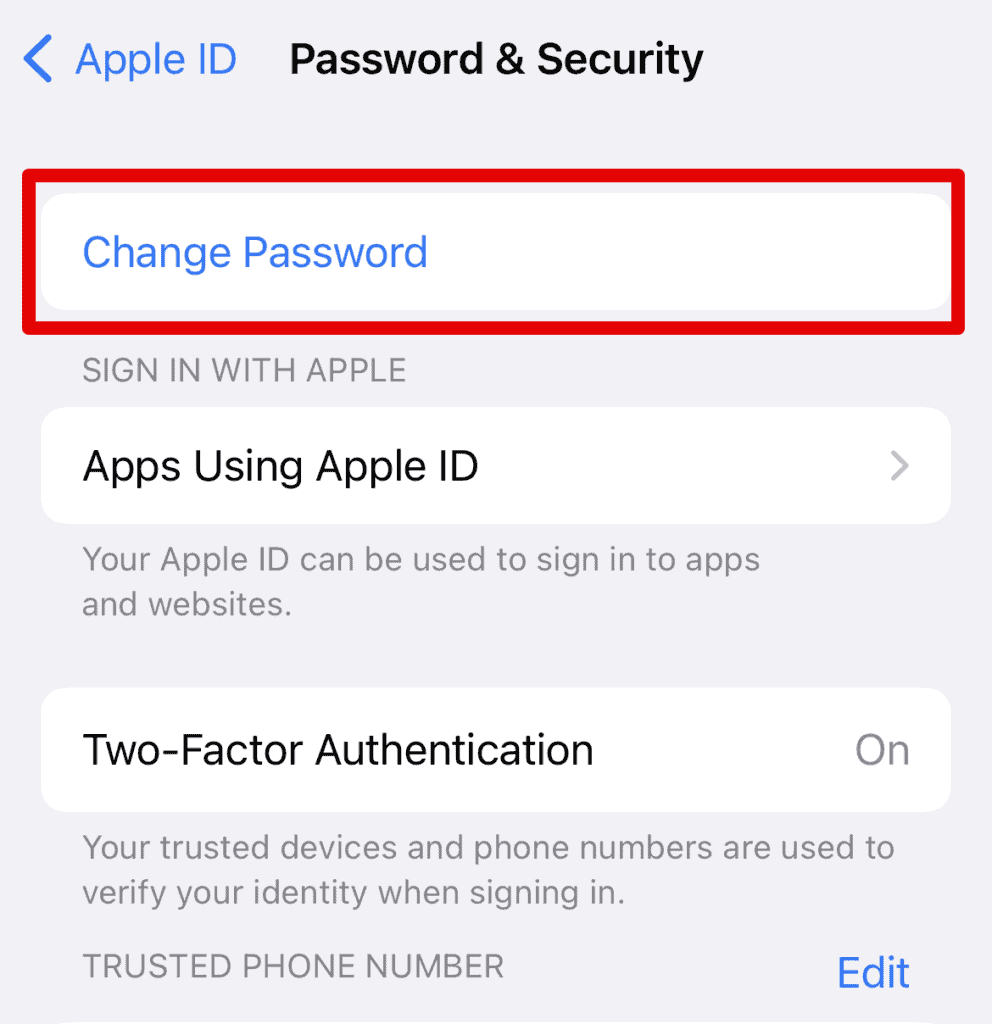 You will be asked to enter your iPhone passcode to continue.
Next, enter the New Password and re-enter a password to verify.
Once done, click on Change.
Your password is now changed. Make sure to keep a strong password and something that you can easily remember when needed.
What do I do when I cannot recall my Apple ID password?
If you are unable to remember your current Apple ID password, that's no reason to worry. You can try a few things to get access to all your Apple tools.
Look through your saved passwords – There are multiple devices and browsers where you may have opted to sync your Apple passwords, such as Google Chrome or even your iPhone.
Check your Notes app on your smartphone or places you may have noted down the password to keep it safe and might use it in such desperate times.
If nothing works, you can simply click Forgot Password. Here you can follow the necessary steps to set up a new password or use other means to log in.
However, if you need help following the above or if something doesn't seem to be working, the best way to go from here is to contact Apple support. They have a live chat option where they can guide you through the next series of steps you can take.
Frequently Asked Questions
How do I change my Apple ID login?
You can visit the appleid.apple.com website and sign in to your account. Now, under your name, go to Sign in & Security. Then, choose Apple ID. You can now enter the new email address you want to use as Apple ID to log in. Choose Change Apple ID, and a verification code will be sent to that email id for confirmation.
What is a strong Apple ID password?
To create a strong Apple ID password, make sure to keep the length at least 8 characters. Use a mix of uppercase and lowercase letters, numbers, and special characters (such as #, @, or !). Also, make sure to use a unique password that isn't something already used on other websites or accounts. Furthermore, don't use personal info or any obvious pattern such as 12345, qwerty, etc.
Conclusion
Were you able to change your Apple ID password? Well, the steps mentioned above are more than enough to help you with just what you need. It can be done from any of the devices you currently have, whether you are using an Apple device right now or not. With the use of the Apple website, you can use any browser.
Now, Apple may ask you to verify your device while logging in through the website; hence, ensure you have the other device ready for authentication. Other than this, you are good to go.
If this helped you and you want to keep reading articles like this, check out our website for more. Feel free to reach out to us if you have any doubts or queries about this.
About Kanika Modi