This site contains affiliate links. As an Amazon Associate, We earn a commission from qualifying purchases at no extra cost to you.
Venturing into the vibrant, fantastical realm of Azeroth on your Mac? World of Warcraft is one of the most popular MMORPGs in the world that is also available on Mac.
This article will guide you on how to download and play World of Warcraft (WoW) on your Mac, making sure you're equipped and ready for epic adventures.
We'll cover everything from creating a Battle.net account to downloading the game client. We'll also provide some tips on how to optimize your Mac for playing World of Warcraft.
So, let's bypass common issues while downloading and playing World of Warcraft Mac and join millions in this immersive MMORPG with ease.
Can You Play World of Warcraft on Mac?
Yes, you can play World of Warcraft (WoW) on a Mac. Blizzard Entertainment, the game's developer, has made WoW compatible with Windows and macOS platforms, allowing Mac users to enjoy this popular MMORPG fully.
Since its launch in 2004, the highly renowned multiplayer game has been playable on personal computers, amassing a peak of 12 million subscribers, most of whom are PC users.
To successfully install World of Warcraft on your Mac, it must satisfy the World of Warcraft Mac minimum requirements.
So, if your Mac, whether it's a MacBook Pro, iMac, Air, or Mini, aligns with the following specifications, you can run World of Warcraft:
Operating System: macOS 10.13
Processor: Intel Core i5-4670
Video: AMD Radeon R9 M290 2GB or NVIDIA GeForce GT 750M 2GB or Intel UHD 630
Memory: 4GB RAM
Storage: At least 100 GB available on an SSD or HDD
To optimize your gaming experience, it's advised to exceed these minimum requirements if possible.
You can enjoy World of Warcraft on the most recent M1 Macs, delivering an average of 60 frames per second.
WoW was among the pioneer games to get a patch facilitating native support for Apple Silicon. This patch enabled Mac users to operate the game on ARM without emulators.
Apple's M1 Macs can execute WoW and other titles from Blizzard with a satisfactory frame rate.
To optimize your gaming experience further, keep your Mac's software updated and ensure a stable internet connection for the best gameplay.
Also, remember WoW often has updates and expansions, so periodically verify your system can handle these new versions.
To avoid potential security risks, remember to download the game from the official World of Warcraft website or the Blizzard Battle.net desktop application.
Always ensure your Mac's security settings allow for the installation of applications downloaded from identified developers.
If you experience technical difficulties while playing the game, Blizzard offers extensive support through its website and user forums.
How to Download and Play World of Warcraft on Mac? [Step-by-Step Guide]
Playing World of Warcraft Mac can be an exciting experience as you immerse yourself in the rich fantasy landscapes, thrilling quests, and engaging character progression systems that this classic MMORPG has to offer.
Below is a step-by-step guide showing you how to download and play World of Warcraft on a Mac, either natively, through cloud gaming, or via Boosteroid.
1. Play Natively
Playing WoW natively on a Mac is the most direct approach and ensures optimal performance if your Mac meets the system requirements. Here's how to play World of Warcraft on Mac natively:
Step 1: Check System Requirements
Before downloading WoW, ensure your Mac meets the game's minimum or recommended system requirements.
We've mentioned the minimum requirements for running WoW on your Mac in the section above. Alternatively, you can find these details on the official Blizzard Entertainment website.
Step 2: Create a Battle.net Account
To play WoW, you need a Battle.net account. If you don't have one, go to the official Battle.net website and sign up for free.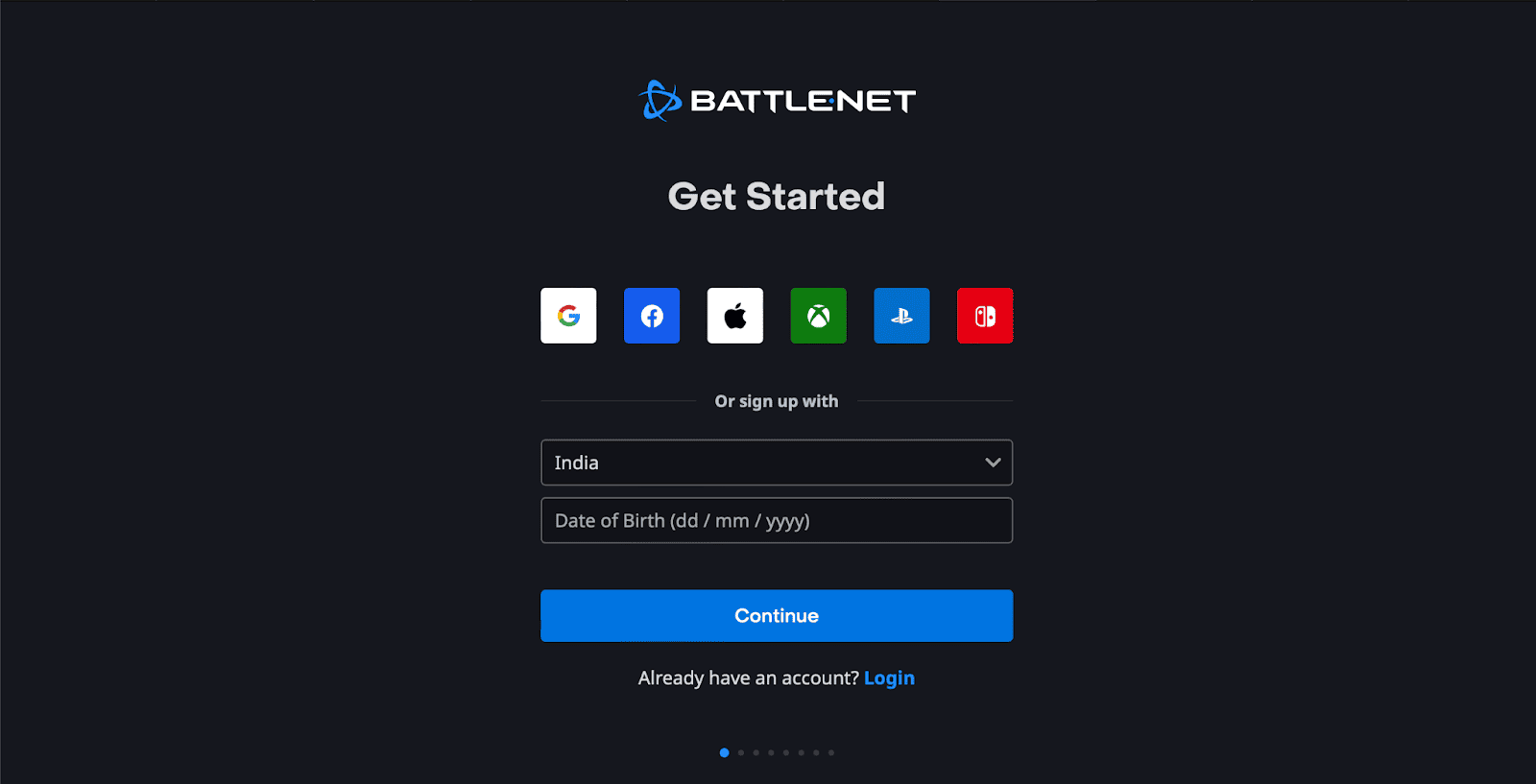 Step 3: Download Battle.net Client
The Battle.net client is the gateway to WoW. You can download it directly from the Battle.net website. Make sure to select the Mac version.
Step 4: Install Battle.net Client
Once the Battle.net client is downloaded, open it and follow the instructions to install it on your Mac.
Step 5: Purchase and Install World of Warcraft
Open the Battle.net client and log in with your account. From there, go to the Shop and purchase WoW. After purchasing, navigate to your Games library and click Install next to World of Warcraft.
Step 6: Play World of Warcraft
After installation, you can press Play to start your journey in World of Warcraft.
2. Via Cloud Gaming
Cloud gaming is a great way to play games on systems that may not meet the game's requirements. Services like Google Stadia and Nvidia's GeForce NOW can run WoW on their servers, letting you play on your Mac without needing a powerful machine.
Step 1: Choose a Cloud Gaming Service
Research various cloud gaming services and select one that best meets your needs. Some popular services include Google Stadia, Nvidia's GeForce NOW, and Microsoft's xCloud.
Step 2: Sign Up and Install
Sign up for the service you've chosen and install its client on your Mac.
Step 3: Add World of Warcraft to Your Library
Once you've logged into your cloud gaming service, add WoW to your games library. If required, you may need to log into your Battle.net account.
Step 4: Play World of Warcraft
After adding WoW to your library, simply click Play to begin your adventure.
3. Via Boosteroid
Boosteroid is another option for cloud gaming, offering a platform to play games on lower-end machines or systems that don't meet a game's specifications.
Step 1: Create a Boosteroid Account
Go to the official Boosteroid website and sign up for an account.
Step 2: Purchase a Subscription
To use Boosteroid, you'll need to purchase a subscription. Boosteroid offers different subscription models to fit your budget and gaming needs.
Step 3: Add World of Warcraft to Your Library
Log into your Boosteroid account, and navigate to the games section. Search for World of Warcraft, and add it to your library.
Step 4: Link Your Battle.net Account
Boosteroid will prompt you to link your Battle.net account. Follow the instructions to complete this process.
Step 5: Play World of Warcraft
Once WoW is in your library and your Battle.net account is linked, simply click Play to start your journey.
How to Download World of Warcraft on Mac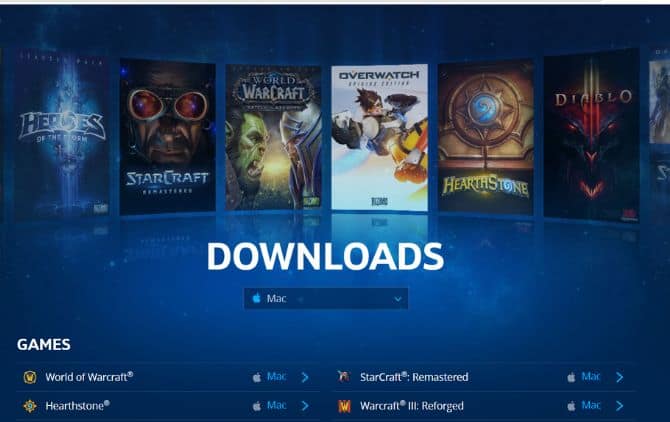 To download World of Warcraft on your Mac, simply visit Blizzard's website and access the download page. From there, you can obtain the macOS version of the game by following these steps:
Go to the Blizzard website and find the World of Warcraft link specifically for Mac.

Click the Download for Mac option to initiate the download.

Once the game's installation file is downloaded, open it on your Mac.

Follow the provided prompts, granting admin permission when necessary, to launch the installation process. Please note that this will install the Battle.net client, not the game itself.

After the Battle.net client is installed, log in using your Battle.net account credentials.

Review the installation settings for World of Warcraft and click Start Install to begin the game installation process.

Once the installation is complete, you can access World of Warcraft either from its icon in the Applications folder or directly from the Battle.net client.
Keep in mind that World of Warcraft is a sizable game, so ensure your Mac has enough free storage space, ideally around 100 GB, to avoid performance issues caused by a full drive.
Frequently Asked Questions
Can I play World of Warcraft for free?
Yes, you can play World of Warcraft for free up to level 20 with the Starter Edition. However, to experience full content, a subscription is needed after level 20. Microtransactions and expansion purchases are additional costs.
Can you play WoW without paying?
You can play WoW without paying for the free Starter Edition that allows you to play until level 20. To continue beyond this point and access the full game, including expansions, a monthly subscription fee is required. So, free play is limited.
Which version of WoW is free?
The World of Warcraft Starter Edition is free. It allows new players to play up to level 20. However, certain game features and areas are restricted in this version. Full access requires a subscription and purchase of any newer expansion content.
Conclusion
World of Warcraft, a gaming sensation that has thrilled millions, is completely accessible and playable on Mac. With various ways to download and play, you can easily join in the immersive adventures that WoW offers, irrespective of your Mac's specifications.
Blizzard's commitment to cross-platform compatibility means even on Macs, WoW's vibrant, dynamic world is just a few clicks away. The game's support for Apple's M1 chip further enhances performance, making gameplay smoother than ever.
However, don't forget to ensure your Mac meets the game's minimum requirements and regularly update your software for optimal performance. Enjoy your journey in the expansive universe of Azeroth and remember, patience is key when downloading and installing such a huge game.
About Christopher