I like using Firefox, one of the most popular web browsers, developed by Mozilla, a non-profit organization.
The Mozilla team has been upgrading the browser by adding many great features, making the product more powerful and easy-to-use.
However, performance issues about Firefox browser are constantly reported by users.
How many crash reports have you sent to FireFox? I sent quite a few!
I mean, if you have used FireFox on your MacBook Pro for a while, most likely you have encountered issues like page delays, cursor becoming a running pinwheel, unexpected crashes, etc.
As a Firefox user for years, I have had to force quit the browser many times because it's simply stopped responding.
So, why is Firefox running slow or continuously freezing?
Possible Causes
Depending on the macOS version your MacBook Pro is running, and the Firefox version you use, reasons may vary. But here are some general causes:
You are browsing sites that use heavy plugins such as flash, Java scripts, even Adobe Reader. Those plugins are very likely to cause Firefox to freeze.
You have opened many tabs and windows while browsing, especially those heavy pages (full of video ads).
Too many resource-intensive applications are running, leaving Firefox little space to process your requests.
You are using a very old version of Firefox (to be updated).
Your Firefox has lots of caches, browsing histories, downloads.
Your Macbook is slow in general, making you feel Firefox is the culprit.
How to Fix a Slow or Freezing Firefox on Mac
Step 1: If Firefox becomes totally unresponsive, force quit.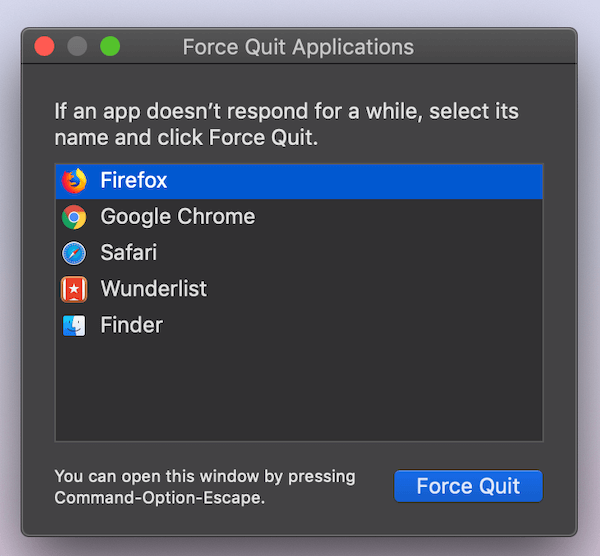 If it turns out that the Mac machine is frozen, you'll probably have to do a hard reboot by pressing the power button – holding it for three seconds, then press it again to restart your Mac.
Step 2: Open Firefox browser and check the version.
Click the Firefox icon on top left corner, you'll see "About Firefox". Click on it and a window will pop up showing you the current version you are using. If it's not up to date, update it right away.
Step 3: Lighten your browser.
You can do so by:
Clearing browsing history (Firefox Menu > History > Clean recent history)
Removing useless extensions (Firefox Menu > Preferences > Extensions & Themes > Extensions)
Disabling unnecessary plugins (Firefox Menu > Preferences > Extensions & Themes > Plugins)
Step 4: Clean your Mac hard drive.
You can do this manually, or save time by using a dedicated cleaning app like CleanMyMac X. It will help tune up your overall Mac performance, as well as making Firefox run more smoothly.
Step 5: Better web browsing habits.
Always try to open only one window, and close tabs/pages you don't need to read, especially when you finish reading content in big magazine sites like Forbes, Huffington Post, MacWorld, etc. which I view as heavy sites because they usually load tons of video ads automatically.
Avoid multitasking at all cost. When you are using Firefox, close as many other apps as possible to squeeze more system resources (CPU, RAM) for Firefox.
Step 6: Switch to an alternative web browser.
Sometimes Firefox just doesn't work well with certain versions of macOS, for example the previous El Capitan. Many Mac users have observed the performance issue. See more from this thread: Firefox not happy with El Capitan (Apple Discussions)
If Firefox is still running slow or freezing randomly, use an alternative like Google Chrome or Apple Safari though they sometimes act up too.
Anyway, we hope these steps have helped you speed up Firefox a little bit. If you have any further questions, let us know by leaving a comment below.